Commencement Information
Congratulations to the MTSO class of 2019. Below is information for graduates' guests, followed by information for the graduates themselves. This page will be updated throughout the Spring Semester.
Photos and video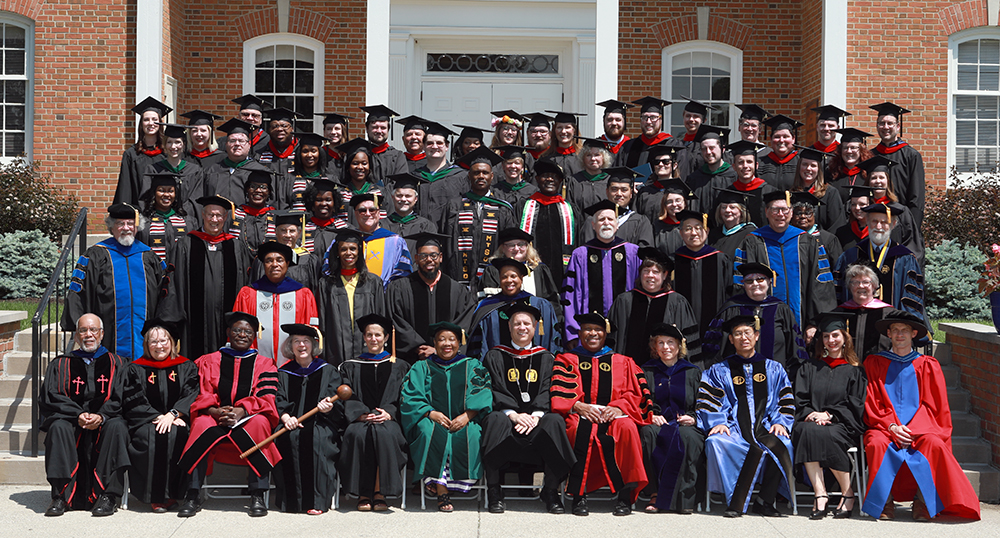 View selected photos from commencement, including all individual diploma presentations, on our Facebook page.
View a complete gallery of more than 500 photos on our Google Photos page.
View archived video of commencement and baccalaureate on our Livestream page.
Information for guests
Baccalaureate Service
The service begins at 7:30 p.m. May 24 in the Alford Centrum. Graduating senior Jennifer Fowler has been selected by the faculty to preach the sermon. Tickets are not required.
A live video broadcast of baccalaureate will be available on MTSO's Livestream page, and it will be archived there for viewing at any time.
Commencement Ceremony
The ceremony begins at 11 a.m. May 25 in the Dickinson Courtyard, between Gault Hall and the Alford Centrum in the center of the MTSO campus. Signs will point the way to the ceremony.
The commencement address will be delivered by Vergel Lattimore, president of Hood Theological Seminary and MTSO emeritus professor of pastoral care and counseling. Dr. Lattimore served on our faculty from 1990 to 2012 and was director of the MACM program. He has led Hood since 2014.
Ample seating will be provided under a tent. Tickets are not required. Free parking is available on campus.
Commencement will be streamed live on MTSO's Livestream page, and it will be archived there for viewing at any time.
Reception
We welcome guests to enjoy light hors d'oeuvres and beverages immediately following the ceremony in Dunn Dining Hall. Graduates will be free to join the reception after their class photo is taken.
Getting here
We are located on U.S. Route 23. Our address is 3081 Columbus Pike in Delaware, Ohio 43015. Here is a Google map.
Lodging and dining
Many hotels are within a 10-mile radius of the MTSO campus. Here are TripAdvisor reviews of nearby hotels. Restaurant options also are plentiful. Here are Yelp reviews of nearby restaurants.
Information for graduates
Event schedule
Closing Convocation – 12:45 p.m. Tuesday, May 14, Alford Centrum
This convocation is a highlight of the academic year and serves as the venue for presenting awards to seniors. We also will recognize retiring professors John Kampen and Linda Mercadante.
Commencement rehearsal – 4:30 p.m. Friday, May 24, Dickinson Courtyard
To ensure a smooth and dignified ceremony, your attendance at rehearsal is vital. We expect to conclude rehearsal by 5:30, leaving ample time for those who wish to go out to dinner with friends and family before baccalaureate.
Baccalaureate – 7:30 p.m. Friday, May 24, Alford Centrum
There is no academic procession associated with this worship service. Seniors who aren't direct participants may sit with their families and friends.
Formation of commencement procession – 10:15 a.m. Saturday, May 25, Library Room L-8
You will meet here to robe, receive final instructions and form the processional line.
Commencement ceremony – 11 a.m. Saturday, May 25, Dickinson Courtyard
No passes are required. We expect to have ample seating for all guests, sheltered by a tent. The ceremony usually lasts about an hour and 15 minutes.
Reception – Following commencement, Saturday, May 25, Dunn Dining Hall
Hors d'oeuvres and beverages will be served in the dining hall. Note: While graduates and faculty will gather on the front steps of Werner Hall for a class photo immediately after the ceremony, Dunn Dining Hall will be open as soon as the ceremony ends. Please encourage your guests to proceed to the dining hall and let them know you'll arrive a few minutes after they do.
Academic regalia ordering
An order form for regalia has been created here. The ordering deadline is April 1. We use environmentally friendly "green weaver" gowns. If you wish to order clergy robes of a higher quality for your use later, you can find the links on the website of our regalia supplier, Oak Hall Cap & Gown. If you plan to use a black clergy robe, you do not have to purchase a gown for graduation but will still have to order your hood and cap. If you have questions about regalia, please contact academicaffairs@mtso.edu.
Formal graduation announcements
We are pleased to provide each senior with five formal, embossed commencement announcements with envelopes, at no charge. Along with your five free announcements, you have the option of purchasing additional announcements for $2 each. Extras don't need to be ordered in advance. Announcements are available from either Danny Russell in Werner 206 or Leigh Precise in Werner 205. Both offices are up the stairs from main lobby of Werner Hall.
Your new alumni status: Help us stay in touch
As you graduate, your relationship with MTSO evolves but will never end. We want to keep you informed about the life of the school and events for which you might want to return. We also want to celebrate and share news of any milestones in your life and ministry.
Before commencement, we ask that you fill out this brief online form with as much information as you know about your location and work after graduation. If all you can share is your non-MTSO email address and mobile phone number, those alone will help us stay in touch.
Questions
If you have any questions about commencement and related events, feel free to contact Danny Russell at 740-362-3322 or drussell@mtso.edu. We wish you all the best in the coming weeks and look forward to celebrating with you in May.