Offered in conjunction with MTSO's cross-cultural program, this trip is not a pilgrimage but a learning seminar in which participants will travel and learn with current MTSO students taking this trip for academic credit. Israel/Palestine is a complex historical, religious and cultural area with endless opportunities for encounter and insights. We'll focus on two areas of emphasis:
Jewish life during the Greco-Roman period – the period just before and during the time of Jesus and the origins of Christianity.
Contemporary religious, political and daily life in Israel/ Palestine.
You'll visit archeological sites related to the biblical period in Israel. You also will have some opportunity to encounter the region's rich and varied religious traditions in the modern world, spanning Muslim, Christian and Jewish beliefs.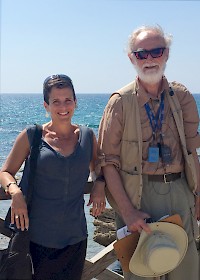 Tour leaders: The trip will be led by two members of MTSO's faculty. Dr. Yvonne Zimmerman, associate academic dean and associate professor of Christian ethics, is leading this trip for the fourth time. Dr. John Kampen, professor in the Dunn Chair in Biblical Interpretation, is leading this trip for the fifth time.
Cost of the trip: We estimate the fee for the trip to be $4,000 per person. This amount could increase or decrease slightly depending on the number of participants. The fee covers travel, lodging, entrance fees to archaeological sites and museums, travel insurance, and all breakfasts and dinners. Participants will be responsible for their own lunches most days. There will also be an MTSO course audit fee of $200. Seniors age 60 and up qualify for a discounted audit fee of $75.
Visas and passports: The tourist visa required for entry is issued at the airport. A valid passport that is valid at least through December 2019 (six months after the trip) is required for a visa. If your passport is not from the United States or Canada, please check with Dr. Kampen to determine any additional requirements..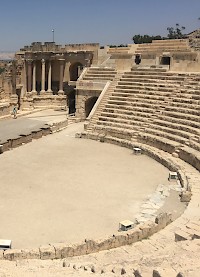 Physical exertion: As noted in MTSO's Cross-Cultural Handbook, each traveler should be able to comfortably walk 3 miles in one hour. Very seldom will we walk more than 1 mile to a site. However, climbing two or three flights of stairs at a time will be common. You will be on your feet for a good deal of the day. 
Deadlines: A $200 deposit is required by Jan. 10. Full payment and passport information are due Feb. 10. Please send indications of interest, deposits and fees to:
Amanda Rodenborg
Office of Academic Affairs
MTSO
3081 Columbus Pike
Delaware, OH 43015
Trip orientation: Alumni and friends will have remote access to five one-hour trip orientation sessions that are provided on campus for students. You will also receive all the information that is provided to students in preparation for the trip. This includes recommend readings and movies.
Questions? Contact Dr. Kampen at jkampen@mtso.edu or 740-362-3364.