WomanPreach! Inc.
Partnering with MTSO, WomanPreach! provides practical training and nurturing community spaces that empower preachers across the country.
WomanPreach! Inc. was founded in 2010 by MTSO Dean and Vice President for Academic Affairs Valerie Bridgeman, who serves as the organization's CEO.
Lilly Endowment Inc. awarded MTSO a grant of $1 million to support prophetic preaching through a partnership with WomanPreach! The grant period extends from Nov. 1, 2022, to Dec. 31, 2027. MTSO is one of 32 organizations receiving funding in an invitational round of grants for the initiative, which is designed to help foster and support preaching that better inspires, encourages and guides people to come to know and love God and to live out their faith more fully. In 2023, Lilly supplemented the original grant with an additional $250,000.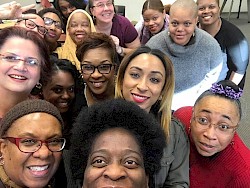 WomanPreach! offers a wealth of programming and resources, including:
The Jarena Lee Preaching Academy uplifts, trains, affirms and supports Black women and femmes as they boldly answer their calls to Gospel ministry.
Chloe's Circle is designed to gather women from diverse racial and ethnic backgrounds and focus on a specific justice theme.
Sophie's Table, open to all genders, is a forum where preaching men learn together about issues confronting the women they pastor.
Women's Work gives participants a practical way to get into biblical text and find a prophetic message and voice while proclaiming the gospel.
Learn more about WomanPreach! Inc., including upcoming programming, at www.womanpreach.org.