Vocational Discernment at MTSO
Listen to your life.
Welcome to MTSO's Office of Vocational Discernment and Community Engagement. We are here to walk with you, learn with you and help you to thrive. We encourage you to be open to what your seminary education brings your way.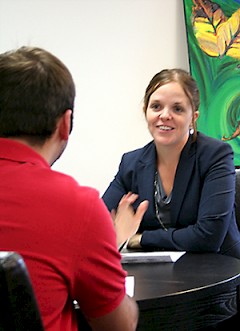 Visit the office for:
A conversation partner in your discernment process.
Resources to help you live into and embrace your vocation.
Consultations on tools along the way, such as resume, CV and cover letter building, interview assistance, professional development suggestions, and building an e-portfolio.
Connection to a wider network.
Self-assessments to help identify and reaffirm your gifts and strengths.
Vocational discernment events 2015-16
Spring Semester
Resume/CV or cover letter check-in
Dunn Dining Hall
April 6, noon
Strengths-based leadership
Vocational Discernment Office
April 26, 3:30-4:30 p.m.

Strengths-based leadership
Vocational Discernment Office

April 27, noon-1 p.m.

Alumni conversation - graduate school roundtable
Dunn Dining Hall
May 4, noon-1 p.m.
Discernment conversation
Dunn Dining Hall
May 5, noon-1 p.m.
Fall Semester
Get to know CCN
Vocational Discernment Office
Sept. 8, 11:30 a.m.-noon
Resume and CV updates
Vocational Discernment Office
Sept. 9, 11:30 a.m.-noon
Western Pennsylvania DS visit
Schooler Atrium and Dunn Dining Hall
Sept. 16, 10 a.m.-2 p.m.
Strengths training
RSVP here
Sept. 22, 11:30 a.m.-1 p.m.
Resume and CV updates
Dunn Dining Hall
Oct. 21, noon-12:30 p.m.
East Ohio and West Ohio representatives on campus
Nov. 3
Alumni discernment panel, featuring MACM/M.Div. dual-degree grads
Faculty Dining Room - RSVP here
Nov. 10, noon
LinkedIn training
Vocational Discernment Office
Dec. 1, 11:30 a.m.-noon
Contact us
Office of Vocational Discernment and Community Engagement
Katherine Dickson, director
Werner Hall Room 122
Office hours vary; please make an appointment
kdickson@mtso.edu
740-362-3440