Our campus covers 80 acres, rising on a hillside above the banks of the Olentangy River. Seminary Hill Farm sits on a sizable portion of that land, covering open fields, hoop houses and a greenhouse that extend the planting and harvesting seasons.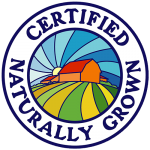 Food from Seminary Hill Farm is Certified Naturally Grown. CNG farmers don't use any synthetic herbicides, pesticides, fertilizers or genetically modified organisms. CNG livestock are raised mostly on pasture and with space for freedom of movement. Feed must be grown without synthetic inputs or genetically modified seeds.
The farm extends our focus on sustainability.
In MTSO's Dunn Dining Hall, cans of processed food have been replaced by a dazzling bounty of fresh fruits and vegetables harvested steps away from the kitchen door. We share meals prepared by culinary experts committed to serving nutritious food that tastes delicious and looks beautiful.
The benefits of Seminary Hill Farm reach well beyond the campus.
Too often, locally sourced produce is available disproportionately to people of means. MTSO is using its location within a major metropolitan area to reach out to partners who can help make fresh, healthful food available to those who rarely get to enjoy it.
The farm gives us the means to model best practices.
Many of our students will serve churches or other organizations with unused land available for community gardening. All of them will benefit from a deeper understanding of the value and frailty of our ecosystem. They will graduate from MTSO with both an academic grounding in eco-theology and a practical sense of how sustainable living can be successfully practiced every day.
Throughout the spring, summer and fall, members of the Seminary Hill Farm CSA stop by campus to pick up their shares of freshly picked produce, ready to be served at the dinner table.
Here are more resources.
Considering graduate theological school? We'd love to have you visit MTSO. Contact our Admissions Office at admissions@mtso.edu or 800-333-6876 to arrange a tour that includes our farm and a chance to enjoy some of our delicious food.
Media member? We're happy to arrange interviews regarding Seminary Hill Farm and provide high-resolution photos. Please contact Communications Director Danny Russell at drussell@mtso.edu or 740-362-3322.
Wondering how you can contribute? If you're among those who are energized by our work and wish to financially support the school or help make seminary more affordable for students, visit our giving page or call our Advancement Office at 740-362-3130.
Seminary Hill Farm is part of MTSO's Sustainability and Land Initiative. We're happy to share our internal document, "Educational Dimensions of the Sustainability and Land Initiative."
Learn more about MTSO in this three-minute video.