Community Food and Wellness Initiative
Funded through a grant from the Harry C. Moores Foundation, MTSO's Community Food and Wellness Initiative is an educational program that engages Central Ohio churches and community groups on the topics of food and wellness.
This initiative offers unique educational experiences at MTSO's Seminary Hill Farm that celebrate the land, sustainable agriculture, food and community. It also provides various community-based services to support the development of community gardens, urban farms, and other food projects that increase food access and environmental resiliency, promote nutrition and active living, and create fair employment and just community.
We have eight primary objectives.
Through the Community Food and Wellness Initiative, we aim to:
Strengthen understanding of the connections between the land, food, community and wellness.
Increase interest in sustainable agriculture, healthy living and community building.
Foster basic competencies needed to start and maintain a community garden or urban farm.
Facilitate local development of community gardens, urban farms and other food projects.
Develop awareness of local, national, and global food justice and nutrition-related health issues.
Support local participation in national and global food justice campaigns.
Promote connections between those who grow, process and distribute local food products.
Facilitate expanded distribution of Seminary Hill Farm's produce in low-income neighborhoods.
We work with community partners both on our farm and in their own neighborhoods.
We host experiences including Farm Field Days and Community Garden Training Sessions. Farm Field Days offer people of all ages experiences such as farm tours, hands-on gardening instruction, faculty lectures, cooking demonstrations, farm-to-table meals and kids' activities. Community Garden Training Sessions provide hands-on gardening instruction and conclude with a cookout.
Our supportive services consist of project consultation, networking, organizing and program referrals within partner neighborhoods. We assist in community-garden and urban-farm project development, as well as projects that increase access to good food from Seminary Hill Farm and other local growers. Finally, we help establish churches and community groups as host sites for education around gardening, food, nutrition and active living.
Good and Healthy recipes
MTSO has produced a six-part video cooking resource for the All People's Fresh Market, an initiative of Community Development for All People. In these videos, funded through a grant by the Harry C. Moores Foundation to the Community Food and Wellness Initiative, MTSO Sous Chef Daejah McCormick offers recipes using fresh food provided to those who shop at the Fresh Market.
Learn more.
For inquiries regarding this initiative, please contact Kathy Dickson, kdickson@mtso.edu.
In memoriam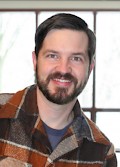 We gratefully remember this initiative's late coordinator, Patrick Kaufman, who died in September 2018.