MTSO's Unitarian Universalist House of Studies serves degree-seeking MTSO students and provides hybrid and intensive classes for UU students who are preparing at other seminaries. With a progressive approach to issues of social justice, race, gender, sexuality and ecotheology, MTSO presents a perfect seminary setting for preparation to serve within the Unitarian Universalist Association.
The House of Studies is governed by MTSO and served by the UU House of Studies Advisory Board.
We strive to be responsible stewards of Unitarian Universalist intellectual resources and identities. Explicitly Unitarian Universalist, we work within an intentionally diverse ecumenical environment that seeks to model a transformational cooperation of progressive religious institutions and persons in the creation of a just and sustainable world.
UU students pursuing a Master of Divinity degree can meet all of their requirements for ministerial preparation at MTSO. The school's wealth of course offerings allows the UU House of Studies to focus on developing courses and experiences that provide the UU supplement to an already sound and broad educational experience.
MTSO is an excellent fit with the UUA in a number of ways.
Financial assistance: UUA students are eligible for numerous full- and partial-tuition scholarships.
UU denominational courses: All classes necessary for ordination in the UUA – including "Unitarian Universalist History and Polity" and other courses of unique value to UU students – are offered within the MTSO Master of Divinity program. Courses are offered in intensive and hybrid formats, serving both degree-seeking MTSO students and UU students at other seminaries. See upcoming UU classes here.
Unitarian Universalist Studies specialization within MTSO's Master of Divinity degree: The specialization encompasses all the coursework specific to UU identity required for persons preparing for ministerial fellowship within the Unitarian Universalist Association. Learn more.
Open and affirming: MTSO strives to provide a safe and welcoming environment for LGBTQ persons. Domestic partners and same-sex spouses may share on-campus student residences.
Multiracial and multicultural: Every M.Div. student participates in a cross-cultural immersion program, including travel. MTSO is intentional about anti-racism, reconciliation and working toward understanding of diversity in the seminary, the church and society.
Justice and ecotheology: MTSO has a long record of commitment to social justice, and the campus is the home to Seminary Hill Farm. Master's degree specializations include Ecology and Justice, Black Church and African Diaspora Studies, and Feminist and Womanist Studies.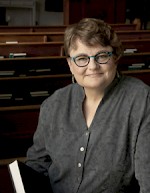 "MTSO offers the unique opportunity for students to explore their Unitarian Universalist identity in depth while experiencing an intentionally diverse ecumenical environment," says Dr. Susan Ritchie, minister at North Unitarian Universalist Congregation in Lewis Center, Ohio, and director of the UU House of Studies at MTSO. "We are living into the progressive interfaith cooperation that so many of us believe is the future for all of us."
For more information, email Susan Ritchie at sritchie@mtso.edu.