Beyond The Classroom
Faculty members provide leadership at Oxford Institute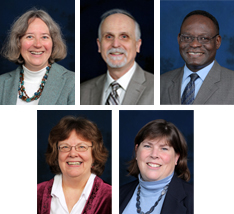 Five members of the MTSO faculty traveled to Oxford, England, in August for the 13th Oxford Institute of Methodist Theological Studies. The MTSO delegation included Sarah Heaner Lancaster, Paul Numrich, Fulgence Nyengele, Robin Knowles Wallace and Lisa Withrow. Originally formed in 1958 to bring together Methodist scholars and ministers from Great Britain and America, the institute now hosts professional Wesleyan scholars, scholarly ministers and laity from around the world every five years.
"We're like a family but divided by oceans and borders. This began as a dream of how Methodists could get together and learn from each other," said Lancaster, MTSO professor in the Werner Chair of Theology and North American secretary for the 2013 institute.
"It's a unique week in which scholars interact with learned pastors and laypersons who are serving in churches. The institute pushes all three groups to think beyond what they normally think and to engage in ideas outside their daily disciplines," Lancaster said.
At the most recent Oxford Institute, Lancaster was instrumental in planning plenary sessions and organizing working groups that focused on this year's theme, Wesleyan Communities and the World beyond Christianity.
In order to attend as a full member of the Oxford Institute, applicants must submit a proposal for approval by the governing board of the institute. Proposals must be found to be relevant to the topic and contain sufficient scholarship that advances the ministry of the Methodist tradition in the global setting. Four members of the MTSO community were chosen to present at the August 2013 session.
Participating in the Practical Theology Group were Wallace, Nyengele, and Withrow. Wallace's paper was titled "Universal Redemption and 'Catholic Love'"; Nyengele presented "African Spirituality and the Wesleyan Spirit: Implications for Spiritual Formation in a Multicultural Church and Pluralistic World"; Withrow presented "Seeking Meaningful Discourse through Disruption of the Center/Margin Dichotomy." Numrich participated in the Ecumenical and Interreligious Group and presented his paper, "The United Methodist Church's Struggle with Evangelism in Its Approach to Other Faith Communities."
Photos of the working groups are available here.
The MTSO delegation was joined by Timothy Eberhart, newly appointed assistant professor of theological ethics and ecology in a joint position with MTSO and Garrett-Evangelical Theological Seminary. Eberhart presented a paper titled "Sustaining the Planetary Household: Methodist Contributions to an Ecological Economy."
Eberhart will be filling Lancaster's role as North American secretary when the institute reconvenes in 2018. Lancaster, meanwhile, will serve as North American co-chair.
Although the next session is still over four years away, Lancaster already is busy securing funding.
"I'm spending a lot of time seeking grants to enable us to do our work. How money is distributed to fund participation by others around the world is a major focus for me," she said.
"What's really important at the institute is the relationships that get made," Lancaster said, "Meeting people from around the world has long-term benefits. People often stay in touch after the session and these relationships grow into fruitful scholarship and work in the church."