Keeper Of The Nestboxes
A report from MTSO's Bird Man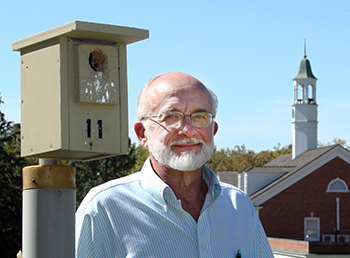 More than 36 years ago, Dick Tuttle began installing the bluebird nestboxes that dot the MTSO campus and nearby Perkins Observatory. He has lovingly tended, repaired and monitored these and other nestboxes throughout Delaware County ever since. Here he shares insights about the boxes, the birds and why those poles have all that grease on them.
In 1977, at the age of 32, I installed a trail of 21 bluebird nestboxes on properties occupied by MTSO, Perkins Observatory, Delaware Golf Club, and the "Big Ear" radio observatory. The trail's purpose was to provide nesting opportunities for struggling eastern bluebirds while creating research opportunities for students attending Ohio Wesleyan and Ohio State universities. The project was named the OWU Bluebird Trail. Today, 26 boxes stand on the MTSO campus, while six remain at OWU's Perkins Observatory.
The light green boxes are mounted 5 feet above the ground on steel pipes. Lengths of PVC drain pipe hang below most of these avian nurseries to keep pregnant red squirrels from claiming the boxes for their own nests, and to insure that hungry raccoons and black rat snakes cannot ascend to the boxes to devour nestlings.
All pipes have small zones of fresh automobile chassis grease to deter ants and further discourage raccoons. Four species of native birds use these nestboxes to safely raise their families while enhancing the lives of all that experience the MTSO campus.
The OWU trail is one of 11 nestbox projects totaling nearly 400 boxes that I maintain and monitor in Delaware County. My 2013 nesting season started on March 6 when I arrived on campus to clean boxes and add grease. By early May, nine pairs of bluebirds were raising families. Overall, bluebirds on the OWU trail in 2013 raised 85 young from 21 successful nests after 22 attempts with eggs.
Most of the nestboxes are paired to allow peaceful coexistence between bluebirds and tree swallows as they compete for nest sites. Since swallows are aerial feeders, they don't compete for food with bluebirds, which feed on insects from the ground. Swallows defend against other swallows within 15 yards of their boxes – inadvertently protecting their blue neighbors' boxes as well. Fifty-five young tree swallows were fledged from 12 nests this year.
Small Carolina chickadees like to glean insects from the campus's mature trees, and they attempted three nests, eventually raising 10 fledglings. Another small nester, the house wren, raised 11 offspring from two successful nests.
All native birds pay their rent by controlling insect populations. Bluebirds inspire onlookers with their brilliant blue feathers as they drop to the ground to snatch a crawling insect and immediately return to a nest. Chickadees are cute with their matching black crowns and chins, whereas wrens are feisty and sassy.
Perhaps the most valuable nestbox inhabitant is the aerial-feeding tree swallow. Studies have revealed that each adult swallow consumes up to 2,000 flying insects a day, and 99 percent of their prey is shorter than a centimeter. Deer flies and mosquitoes are on the tree swallows' menu, along with midges and leafhoppers. Inhabitants of the 12 successful swallow nests on and around the MTSO campus consumed more than 3.6 million insects in 2013.
As students and visitors become aware of the campus's nestboxes and the birds that use them, I hope they will not forget the experience. Once they leave MTSO and return to their communities, neighborhoods and congregations, they might recognize the potential for nestbox trails and seek volunteers to help enhance their world with nestboxes.
Since the first nestboxes were installed in 1977, those nestboxes along the OWU Bluebird Trail have added 1,864 bluebirds, 1,273 tree swallows, 210 Carolina chickadees, 688 house wrens and 33 tufted titmice – a total of 4,068 native birds – to our world. I hope your future includes our feathered neighbors. Help them if you can.