Feb. 10 and 11
Mark Kelly Tyler leads 2014 Schooler Institute on Preaching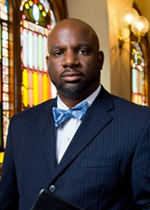 Rev. Dr. Mark Kelly Tyler will lead the Schooler Institute on Preaching Feb. 10 and 11 on the MTSO campus. Tyler is senior pastor of the historic Mother Bethel African Methodist Episcopal Church in Philadelphia and a fully affiliated faculty member at MTSO, where he teaches homiletics and African-American studies.
Thanks to the generosity of Schooler Family Foundation, the event is offered to the public without cost. MTSO is offering one CEU credit for a $25 administrative processing fee. Advance registration is required.
Tyler holds a doctorate in educational leadership from the University of Dayton, a Master of Divinity degree from Payne Theological Seminary in Wilberforce, Ohio, and a B.A. in religion from Clark Atlanta University. In 2008, he was appointed pastor of Mother Bethel, the first congregation founded by Bishop Richard Allen, the founder of the AME Church. Mother Bethel has been a spiritual, social and community force since the late 1700s.
Tyler, who began teaching at MTSO in 2007, recently was interviewed by host Henry Louis Gates Jr. for the PBS series The African Americans: Many Rivers to Cross.