March 2 Event
Alford Centrum concert features MTSO organist Joshua Brodbeck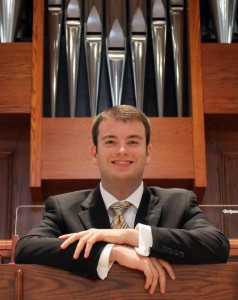 MTSO Organist in Residence Joshua Brodbeck will present an organ concert at 7 p.m. March 2 in the Alford Centrum. The concert is open to the public. A freewill offering will benefit music education at MTSO.
A concert organist since the age of 12, Brodbeck has performed live throughout the United States and for television and public radio. He won the Indianapolis American Guild of Organists' Young Artists competition in 2007 and has received numerous other awards.
Brodbeck holds certificates from the American Guild of Organists and is a member of the Royal College of Organists. He has studied at the Capital University Conservatory of Music and Indiana University's Jacobs School of Music. In addition to his position at MTSO, he is minister of music and artist in residence at Holy Trinity Lutheran Church in Upper Arlington.
Brodbeck's March 2 concert will feature works by J.S. Bach, Craig Phillips and William Albright, among others.