East And West Ohio Conferences
The MTSO Lakeside House returns this June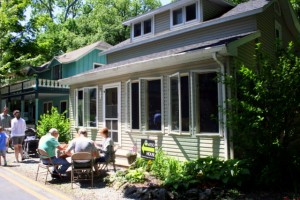 By popular demand, the MTSO House at Lakeside will be open again during Ohio's United Methodist annual conference season.
Last year, our friends from East and West Ohio stopped in for everything from barbecue to coffee to phone charging and WiFi, not to mention great fellowship. This year promises more of the same - maybe even with better weather.
Check out more photos from 2013 of our West Ohio and East Ohio gatherings.
Plan to join us at 324 Sycamore Ave. (just a couple of blocks from Hoover Auditorium) again this June. We're planning an Open House with President Rundell; a luncheon for students, alumni and friends; and free coffee and charging stations in the mornings. Dates and times will be posted on our website later this spring.