Faculty Lecture
Numrich shares insights on interreligious relations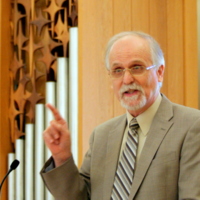 MTSO and Trinity Lutheran Seminary joined together May 10 to recognize Paul Numrich's status as full professor. Numrich, who holds the Snowden Chair for the Study of Religion and Interreligious Relations at MTSO, presented a faculty lecture on the topic "Christian Sensitivity in Interreligious Relations."
Here is a brief excerpt regarding insight he has gained from Buddhism:
Without revealing where I got this insight, I advise my fellow liturgists to be fully present in Christian worship, to clear their minds of anything other than what they are about to do in leading the congregation in its "work" of worship or liturgy. I have also reminded myself many times that if my calling is to be a minister of Christ to all people and in all circumstances, then I cannot be interrupted by anyone or anything that comes my way.
The student who stops by my office in crisis while I am working on my lesson plans for the next class session is the person in my present moment, not the students who may or may not show up in class later. It's that person in my present moment I am called to minister to. Living in the present moment as a Christian minister – Buddhists have given me some strategies for that.
Audio of Numrich's complete lecture is on MTSO's iTunes U page.