New Honor
Bob Miller receives inaugural Wilcox Leadership Award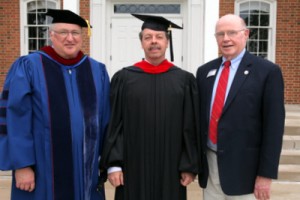 MTSO's Closing Convocation May 7 was enhanced by the presentation of a new award. Emeritus Professor Bill McCartney and his wife, Judy, founded the David Wilcox Leadership Award this year to honor a graduating senior who reflects characteristics of servant-leadership within the MTSO community and in church ministry, and who shows promise to become a leader in judicatory connections.
The award honors the service and leadership of the Rev. Dr. David Wilcox within the United Methodist Church and as a trustee of MTSO. Wilcox is senior pastor of Wooster United Methodist Church and chair of the MTSO Board of Trustees, on which he has served for 34 years.
The first recipient of the David Wilcox Leadership Award is Bob Miller, who received his Master of Divinity degree May 18 and is appointed to Milan Marble Memorial United Methodist Church. He was one of 16 honorees at Closing Convocation this spring. Here is a complete list of awards and their recipients.