Commencement
Graduates of 2013 embark on ministries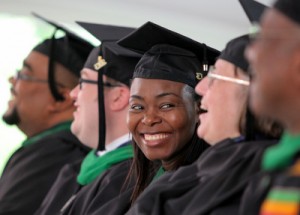 MTSO awarded degrees and certificates to the class of 2013 on May 18 in a ceremony highlighted by the participation of alumni from the class of 1963 and a stirring address by the Rev. John Edgar.
Members of the class of '63 – the school's first graduating class – reunited to celebrate 50 years since their own commencement and to process with this year's class. They gathered for several meals and to have their photo taken on the steps of Werner Hall, just as they had half a century ago.
Edgar, who is founding pastor of the United Methodist Church for All People and executive director of Community Development for All People, urged graduates to "commence creating an authentic, inclusive body of Christ, a church that's a front porch to the kingdom of God.
"Yes, sadly, many of us as soon as tomorrow morning will return to congregations to worship God that are incredibly monolithic – one class, one race, one culture," he said. "But right outside your door there is a world of difference in your backyard. There always has been, and there always will be.
"Part of the beauty of this institution is inviting you to face that, embrace it and be transformed by it. So I ask you: Are you willing to spend your life in ministry finding ways to create unity from diversity to build the body?"
Video of the entire ceremony, including Edgar's address and remarks by Board Chair David Wilcox and President Jay Rundell, was streamed live and is still available on MTSO's Livestream page. More photos from the day are on MTSO's Facebook page.