Theology In New Places
What do vampire stories tell us about God?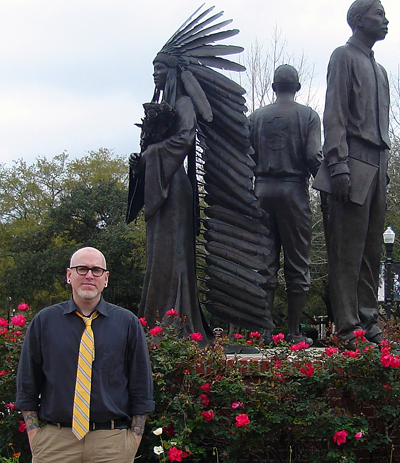 It's safe to say the fictional undead have lived the good life lately. There are the Twilight books and movies, the AMC series The Walking Dead, and even an iPhone app that inspires you to jog faster by pelting your eardrums with hysterical warnings that you're being chased by zombies. It's easy to dismiss these pop-culture phenomena as mindless diversions, good for a quick scare or even a laugh. Easy, that is, unless you've come across MTSO student Jess Peacock.
Where others see cartoonish flesh eaters and blood suckers, Peacock sees an opening to explore serious theological questions in new venues. While working toward a Master of Divinity degree and laying the groundwork for doctoral study, he is establishing himself around the country as an authority on the intersection of religion and the horror genre.
At the Florida State University Department of Religion's Graduate Student Symposium in mid-February, Peacock presented a paper titled "Such a Dark Thing: Liberation Theology and the Breakdown of Community in Stephen King's 'Salem's Lot."
"King paints a picture of a community that is oppressed," Peacock said of the vampire novel. "There's child abuse, spousal abuse, devious land deals. That's before anything crazy starts happening. The vampire just basically gives some sort of flesh to that oppression."
In the struggle of the book's heroes against an increasing vampire population, Peacock sees what Gustavo Gutiérrez calls a "theology of hope."
"Ultimately they do battle against oppression, and in the end they don't necessarily succeed," he said. "But that's not the point of liberation theology. The point is working toward the cessation of oppression without necessarily reaching that goal in your lifetime."
In late March, Peacock will share two papers at the American Academy of Religion's Midwest Conference in Illinois. Along with the 'Salem's Lot paper, he will present "OMG! The Role of Otto's Mysterium Tremendum Within the Traditional Vampire Narrative." Theologian Rudolph Otto used the term mysterium tremendum – tremendous mystery – to discuss the combination of wonder and terror invoked by a personal encounter with the divine. Peacock will extend it to the reaction to vampires in literature.
He'll fly to California in April for the Claremont Lincoln University National Student Conference, where he'll present a third paper, "The Pontypool Effect," inspired by a horror novel and film in which words become a virus, infecting people who hear them on the radio and inspiring murderous rage.
"What I want to do is examine Muslim-Christian relations and the subtle rhetoric of religious exceptionalism, which almost creates a virus," Peacock said. "People believe they're engaging in true interreligious dialogue, but these little words they use create a virus that creates an environment of exceptionalism and results in religious and cultural divisiveness." He'll explore whether incidents such as last year's Koran burning by Florida pastor Terry Jones can be attributed to a real-life Pontypool effect.
Closer to home, Peacock will spend part of his Easter weekend as a panelist at MARCON, a fantasy and science fiction convention in Columbus, where he will be part of a panel that considers the interplay between religion and the horror genre.
Peacock aspires to earn M.Div. and Ph.D. degrees on the way to a college teaching career, where he would like to guide students in the examination of religion and culture: "What I think I can help people do is see where religion is being discussed in culture, maybe when you don't even know you're talking about religion."
In a directed-study paper at MTSO, he explored the theological underpinnings of the vampire genre. "One of the things I discussed was theodicy: why evil exists in the world. What is the relationship between God and evil? The vampire is a modern way of looking at that."
Peacock's advisor for the paper was Dr. Tim Van Meter, assistant professor of Christian education and youth ministry.
"When I read Jess's directed-study paper, I thought he had things there that were publishable," said Van Meter, who's thrilled to see Peacock sharing his work with a broader audience. "He's found some avenues to put that out there in a way that it might be used."
Even though Peacock generally dislikes traveling, he's energized by his opportunities this spring to help sci-fi and horror fans consider the theological implications of the genre – and also to help those who think theologically to apply their discipline to the themes of popular literature and media. In his mind, these are obvious pursuits.
"After all," he said, "on the classic Star Trek, they were always discussing religious issues."