From The President
New appointments add to the energy on campus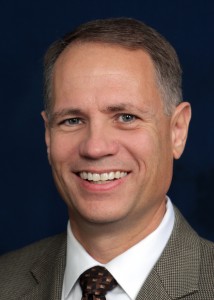 As a cold winter abates, your seminary is bursting with energy and new life this spring. Yes, there is plowing and planting taking place on the back 40 and the Dunn Dining Hall is rapidly becoming a foodie destination. But there is more.
The teaching chapel is now bigger, brighter and beautifully appointed. Virtually all of our classrooms are now, well, virtual, as well as wonderful face-to-face, interactive spaces. Recent visitors and returning alumni have noted a high level of energy on campus and a lot of positive change. I invite you to come and experience it for yourself. In the meantime, let me update you on a few items and encourage you to read through the many interesting features of this Campus View edition.
First, with concurrence of the faculty and by election of the MTSO Board of Trustees, it is my privilege to announce the appointment of Dr. Lisa Withrow as academic dean, effective July 1. I am pleased that Dr. Withrow, who also remains professor of Christian Leadership in the Dewire Chair will lead the academic life of the seminary, and I look forward to working with her to build on the fine work of Dean Randy Litchfield, the faculty and the academic staff.
As associate dean for the past several years, Lisa has earned the respect of colleagues and students, and she has led us forward on a number of important fronts. Her expertise in Christian leadership and her commitment to the seminary's mission makes her the right person for the job as we move forward together in the rapidly changing world of theological education. Please join me once again in expressing appreciation to Dr. Litchfield for a job well done and in welcoming Dr. Withrow to the role and office of dean! I encourage you to view Dr. Withrow's curriculum vitae to learn more about her scholarly work and her strong qualifications for this important position.
Second, I am pleased to announce the appointment of Dr. Valerie Bridgeman as visiting associate professor of Homiletics and Hebrew Bible. Dr. Bridgeman will lecture, preach and lead informal learning experiences during Spring Semester and will teach two homiletics courses during the upcoming Fall Semester. You will see from Dr. Bridgeman's curriculum vitae that she brings extensive experience and expertise to our campus community. Dean Litchfield and I have both known Dr. Bridgeman for several years and are excited to bring this well-known and highly respected homiletician, biblical scholar and artist to our campus community.
Finally, I am happy to announce that I am appointing April Casperson as vice president for institutional advancement, effective June 1. Rev. Casperson has worked in the area of recruiting and admissions for over seven years, most recently as director of enrollment management and scholarship development. She expects to complete a Ph.D. in Higher Education Administration from Ohio University later this year. In this position she will build on her current work with many constituencies and will have oversight of admissions and development. Rev. Stan Ling, our director of development, is retiring in May and will continue in a part-time fundraising role. We are grateful for Stan's dedication to MTSO during his tenure here. With April's leadership, we will be bolstering our already strong staff in the areas of recruiting and development.
I appreciate the good work of all our fine faculty and staff and am grateful for the many ways so many of you support this important work on behalf of our students and those they will serve.