John T. Mount, 1918-2014
MTSO mourns the passing of a great friend and leader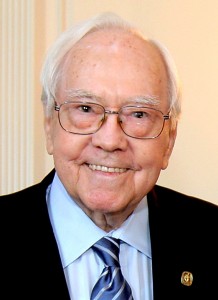 Methodist Theological School in Ohio lost a steadfast friend and a guiding presence dating to its earliest days when John T. Mount died Feb. 20. His relationship with the school began when he was elected to its first board of trustees in 1958 and lasted the rest of his life.
Mount was most recently on campus in October, when he spoke at the 25th John and Ruth Mount Alumni Awards for Distinguished Service, which he established to honor MTSO graduates for exceptional ministry and service. He also established the John and Bertha Mount Scholarship Program.
Mount served as an MTSO trustee for 48 years, 16 of those as chair, all while working as a top administrator at Ohio State University. Mount Hall on Ohio State's West Campus is named in his honor. He also was an active member of Maple Grove and Trinity Unity Methodist churches. He had four children, eight grandchildren and 12 great-grandchildren.
"John was one of those people who lived large in a number of communities," said MTSO President Jay Rundell. "He was an extraordinary servant leader of deep faith and intellect who enriched our seminary immeasurably."