April 22 and 23
TCU's Melanie Harris will deliver 2015 Williams Institute lectures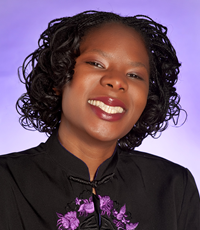 The Williams Institute at MTSO welcomes Texas Christian University faculty member Melanie Harris for two lectures April 22 and 23. She will speak at 7 p.m. April 22 and 1 p.m. April 23. Her theme is "An Ecowomanist Vision: Planetary Health and Self Care."
The lectures are free and open to the public. No registration is required.
Harris is associate professor of religion and ethics at TCU, where she teaches in the areas of Christian social ethics, womanist religious thought, African-American literature and religion, and media and religion. She is the author of the book Gifts of Virtue: Alice Walker and Womanist Ethics.
An ordained minister in the African Methodist Episcopal Church, Harris received doctorate and Master of Philosophy degrees from Union Theological Seminary in New York City. She also holds a Master of Divinity degree from Iliff School of Theology and a bachelor's degree from Spelman College.
A former broadcast journalist, Harris combines her experience in communications to lead workshops on church leadership and spiritual direction, and she facilitates consultations engaging race, religion and pedagogy.
MTSO's Williams Institute was begun in 1981 to honor the late Dr. Ronald L. Williams, professor of theology from 1971 until his death in 1981. The institute has featured speakers from many backgrounds, including theologians, ethicists, poets, biblical scholars, historians, pastoral psychologists and Christian educators.