52nd Commencement
Professor Emeritus Paul Minus will address the class of 2014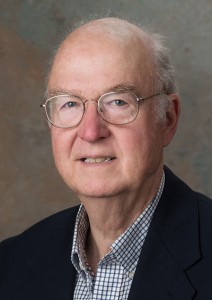 Paul Minus, whose life of service to the church and the world includes 25 years teaching at MTSO, will deliver MTSO's 2014 commencement address Saturday, May 24. The ceremony begins at 11 a.m. in Dickinson Courtyard. Guests are welcome, and tickets are not required. Here is a full schedule of Graduation Weekend events.
Minus is emeritus professor of church history at MTSO, where he taught from 1964 to 1988. After earning undergraduate, theological and doctoral degrees at Yale University, Minus served as university chaplain at Florida State University before coming to MTSO. After leaving MTSO, he became founding president of the Council for Ethics in Economics. In retirement, he has served on a long list of boards and has continued to author books on a range of topics.
Minus is married to the former Jean Clegg Dickinson, whose late husband, Buford Dickinson, served as MTSO's president from 1981 to 1985.
Baccalaureate will be held at 7:30 p.m. Friday, May 23. Graduating senior Claudine Leary will deliver the sermon.