ALUMNI ACHIEVEMENT
Four receive 2015 Mount Awards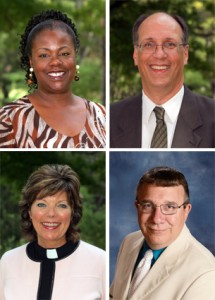 Karen Cook, Jeffrey Hodge, Virginia Lohmann Bauman and Alan Morrison received the John and Ruth Mount Alumni Awards for Distinguished Service, the school's highest honor for graduates, during Alumni Day Sept. 28.
Cook (M.Div. '03)  received the Mount Award for Parish Ministry. She serves on the pastoral team of the United Methodist Church for All People and as director for the Community Development for All People Training Center in Columbus.
"Karen embodies gracious, grace-filled, focused pastoral ministry that is rooted in social justice and engaged with the needs of the world," said April Casperson, MTSO vice president of institutional advancement, who presented the award. "She is visible, respected and heard within the denomination."
Hodge (M.Div. '08) received the Mount Award for Specialized Ministry. He serves in New York as pastor of Pennellville and Oswego Trinity United Methodist churches and the principal of J. Hodge Consulting, which does church and community development consulting. He also has served as secretary of the Upper New York Conference of the United Methodist Church.
"Jeff's call to serve in ministries of compassion and justice, both within the United Methodist Church and in the gathered community, reflects the awareness of social issues that is embedded in the education found at MTSO," Casperson said.
Lohmann Bauman (M.Div. '06) received the Mount Award for Parish Ministry. She is senior pastor of St. John's United Church of Christ in Columbus.
"It is a central task of Virginia's ministry to encourage and empower our churches to live in community in such a way that, despite our differences, we are changed by love," Casperson said. "Virginia's service in vibrant pastoral ministry and engagement with the community reflects the world-changing call MTSO places upon its graduates."
Morrison (M.Div. '90) received the Mount Award for Service to MTSO. He is pastor of First United Methodist Church of Monongahela, Pennsylvania, and has served as a trustee of MTSO since 2010. From 2005 to 2012, he was business manager of the General Conference of the United Methodist Church.
"MTSO is thankful for Alan's work in the church and the world," Casperson said. "His spiritual gift of administration has served the church well and his thoughtful, pastoral presence is welcome in churches across the connection."
The Mount Alumni Awards were created in 1990 to recognize graduates of MTSO who have achieved distinction in ministry and in service to the school. The award program was created by the late John Mount, a founding MTSO Board of Trustees member, and his late wife, Ruth.