September 30, 2013
News
MTSO grad Laura Pressley is Ohio University's outstanding doctoral student
Now she's educating up and coming counselors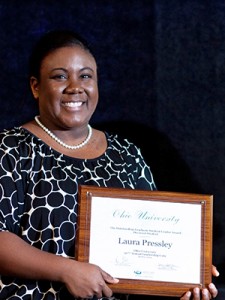 Each spring, Ohio University selects one of its many doctoral students to receive the Outstanding Graduate Student Leadership Award. In April of this year, the honoree was Laura Pressley, who two years earlier had received her Masters of Arts in Counseling Ministries degree from MTSO.
The award is one in a series of affirmations that Pressley made the right decision in continuing her graduate studies in counseling. After graduating from MTSO, she immediately began pursuing her Ph.D. in counselor education and supervision. Her goal is to prepare future generations of counselors.
"I was one of only two MTSO graduates in my class to go straight to doctoral work, and that was a little scary," she said. "I had plenty of encouragement from professors like Denise Lewis. She was the first person who told me how I could do this and helped me set my sights on Ohio University."
Pressley, who earned bachelor's degrees in psychology and women's studies at the University of Michigan, has served as a doctoral intern for the Ohio Mental Health Counselor's Association during her time at Ohio University, focusing on substance abuse and gender issues within pastoral and professional counseling.
"Initially, I wanted to focus on substance abuse with minority women," she said. "But MTSO helped me integrate faith issues into the recovery process. A lot of counselors feel uncomfortable talking about faith. But if clients can't openly speak about certain things in their faith, it could shut down the therapeutic process."
Pressley has presented her understanding of the therapeutic process and modern trends in substance abuse at conferences in Orlando and San Diego during the past year. "I'm interested in showing counselors ways to consider new models," she said.
She will have the opportunity to do that in her new role as an adjunct professor at the University of Wisconsin-Whitewater this fall. A Licensed Professional Counselor, Pressley is confident that her classroom learning and her experience have equipped her to bring new understanding to her students.
"I want to show students the ways that new therapies and new drug therapies require a wrap-around counseling model to ensure clients' recovery," Pressley said. She explained wrap-around counseling models have a better success rate than some traditional models among those battling addiction because counselors work to ensure that clients can be successful at work, at home, and with family and friends.
"Wrap-around models can provide more stability and increase the chance for total recovery. The goal is for clients to not want to use again and to develop a good support system. This is the best chance for that," Pressley said.
While settling into her new home in Wisconsin, Pressley still reflects on the ways her time within the MTSO campus community and the MACM program prepared her for this new chapter in her life.
"I loved living on campus and am grateful for that time because I could immerse myself in a community of like-minded learners," she said. "My classes in addiction were the most important. No program in the country with the exception of MTSO was talking about addiction and issues of faith – and how faith impacts recovery."
Methodist Theological School in Ohio prepares leaders of many faith traditions for lives of significance in service to the church and the world. The school offers master's degrees in divinity, counseling ministries, theological studies and practical theology, as well as a Doctor of Ministry degree. For more information, visit www.mtso.edu.
CONTACT:
Danny Russell, director of communications
drussell@mtso.edu, 740-362-3322