July 6, 2012
News
Alum Patrick Broz leads growth and renewal within his Kansas church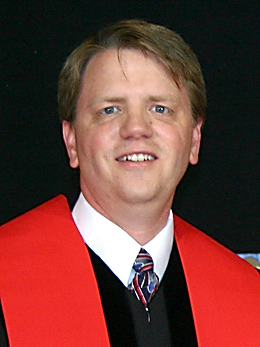 Two years ago, Patrick Broz (M.Div. '08) became pastor of church that was drawing 50 people per Sunday and struggling to pay bills. Since then, attendance at Trinity United Methodist Church in Lindsborg, Kan., has tripled, and the church is looking to expand staff.
The Kansas West Conference has posted a story detailing the process through which Broz and his congregation created and are sustaining their momentum. For instance, the story explains how a successful Bring a Friend Sunday campaign from last Christmas is already being updated:
This year, Bring a Friend Sunday will have a new name and life. It will be called Guest Quest. Guest Quest will look more at diversifying to better reflect the demographics of the community rather than bringing a friend, who is likely to be "just like you," Broz explained.
When they looked at demographics from MissionInsight, the Kansas West Conference's demographic service, and the U.S. Census, they found people in their 30s are the majority age group in town but represented the lowest number in their church. Lindsborg also has a high number of non-nuclear families.
"There's our mission field," Broz said.
Read the Kansas West Conference's entire story here.
Methodist Theological School in Ohio prepares leaders of many faith traditions for lives of significance in service to the church and the world. The school offers master's degrees in divinity, counseling ministries, theological studies and practical theology, as well as a Doctor of Ministry degree. For more information, visit www.mtso.edu.
CONTACT:
Danny Russell, director of communications
drussell@mtso.edu, 740-362-3322