October 4, 2016
NEWS
Two receive Mount Alumni Awards
Brice Balmer and Charles Harrison honored
Methodist Theological School in Ohio has presented Brice Balmer and Charles Harrison with the John and Ruth Mount Alumni Awards for Distinguished Service, the school's highest honor for graduates. The awards were presented at a service of thanksgiving Oct. 3 on the MTSO campus. View video of the service here.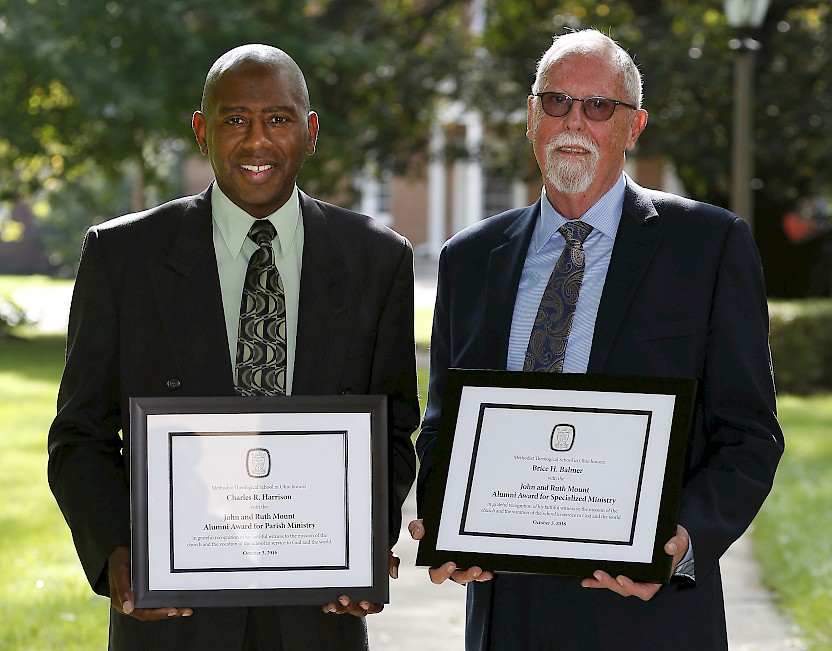 Balmer, who earned a Master of Divinity degree from MTSO in 1973, received the Mount Award for Specialized Ministry. He is associate professor of spiritual care and psychotherapy at Waterloo Lutheran Seminary in Ontario. His courses have covered such areas as addictions, trauma and theodicy, and counseling in a multifaith environment. 
He also has served as executive director of Interfaith Social Assistance Reform Coalition, a network of faith groups working for greater social justice in Ontario, and he co-founded Interfaith Grand River, which brings the wisdom of many traditions to bear on issues affecting the Kitchener community.
"In more than four decades of ministry, Dr. Balmer has done significant work in a number of fields that we at MTSO hold dear, including parish ministry, social justice, interreligious relations and counseling," said MTSO President Jay Rundell.
Harrison, who earned a Master of Divinity degree from MTSO in 1986, received the Mount Award for Parish Ministry. He is senior pastor of Barnes United Methodist Church in Indianapolis, where he is well known for his work as president of the board of directors of Indianapolis Ten Point Coalition, a faith-based organization working to reduce violence and chronic unemployment, and to promote education. 
Among Harrison's other roles, he is a chaplain for the Indiana State Police, a board member of the Indianapolis Neighborhood Resource Center and a member of Ministers on the Move.
"Throughout a ministry of more than 30 years, Rev. Harrison has provided exceptional service to his United Methodist parishioners and the members of his community in Indianapolis," Rundell said.
The Mount Alumni Awards were created in 1990 to recognize graduates of MTSO who have achieved distinction in ministry and in service to the school. The award program was created by the late John Mount, a founding MTSO Board of Trustees member, and his late wife, Ruth.
Methodist Theological School in Ohio prepares leaders of many faith traditions for lives of lasting significance in service to the church and the world. In addition to the Master of Divinity degree, the school offers master's degrees in counseling ministries, theological studies and practical theology, along with a Doctor of Ministry degree. Engage with MTSO through Facebook and Twitter (@MTSOedu).
CONTACT: Danny Russell, director of communications
drussell@mtso.edu, 740-362-3322