January 9, 2014
Event
Boyarin lectures on the 'Jewishness' of the New Testament at MTSO
Williams Institute lectures are March 12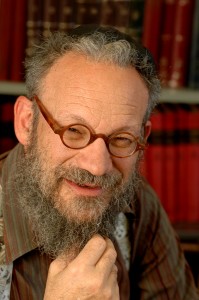 Author and talmudic culture scholar Daniel Boyarin will present a Jewish perspective of the New Testament in two Williams Institute lectures March 12 at Methodist Theological School in Ohio. He will present "Two Notes on the 'Jewishness' of the New Testament: Hebrews and Revelation" at 11:30 a.m. and "Mark, Matthew and Keeping Kosher" at 7 p.m.
Both lectures will be in the Alford Centrum on the MTSO campus, 3081 Columbus Pike in Delaware, Ohio. They are free and open to the public. A campus lunch conversation with Boyarin following the 11:30 lecture also is open to the public. No registration is necessary for these events.
Boyarin is the Hermann P. and Sophia Taubman Professor of Talmudic Culture at the University of California at Berkeley. He earned his doctorate and Masters of Hebrew Literature from the Jewish Theological Seminary of America, a Masters of Semitic Languages at Columbia University, and a bachelor's degree from Goddard College.
Boyarin's books include "A Radical Jew: Paul and the Politics of Identity," "Border Lines: The Partition of Judaeo-Christianity," and his most recent, "The Jewish Gospels: The Story of the Jewish Christ."
MTSO's Williams Institute was begun in 1981 to honor the late Dr. Ronald L. Williams, professor of theology from 1971 until his death in 1981. The institute has featured speakers from many backgrounds, including theologians, ethicists, poets, biblical scholars, historians, pastoral psychologists and Christian educators.
Methodist Theological School in Ohio prepares leaders of many faith traditions for lives of significance in service to the church and the world. The school offers master's degrees in divinity, counseling ministries, theological studies and practical theology, as well as a Doctor of Ministry degree. For more information, visit www.mtso.edu.
CONTACT:
Danny Russell, director of communications
drussell@mtso.edu, 740-362-3322