January 30, 2012
News
Casperson helps provide the spark for an innovative UMC venture
As the Leadership Table of the United Methodist Church's Council of Bishops began fleshing out a bold vision for young entrepreneurship, Rev. April Casperson got an email. Casperson, director of admissions for Methodist Theological School in Ohio, was asked to join the design team driving the fledgling effort. The resulting project, dubbed Spark12, took a big step forward Jan. 21 with the launch of its website, Spark12.org.
So, what is it?
"Spark12 is an entry point for those interested in ministry leadership that allows them to discern while serving," said Casperson, an ordained deacon who earned Master of Divinity and Master of Theological Studies degrees from MTSO. The church hopes to tap the fresh ideas and energy of young people who aren't yet ordained – or perhaps aren't choosing a path that leads to ordination.
Later this year, Casperson and her fellow leadership team members will sift the first batch of proposals for innovative ministry from individuals or small groups of 18- to 35-year-olds. Those whose projects are chosen will become Spark12 fellows and awarded funding from a $175,000 pool established by several United Methodist sources.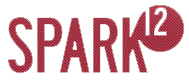 Fellows will meet with coaches and mentors for an intensive weeklong orientation, after which they'll prepare to launch their ministry visions over the following 12 weeks. At the end of that time, fellows will again gather in person to present, meet with potential investors as appropriate, and conclude their formal relationship with the program.
Casperson is careful not to suggest what a winning Spark12 project should look like. "We were deliberately vague in order to leave things open," she said. But she noted that leadership team members have identified a couple of ministries they believe are similar to what the leadership team might want to fund: the Polaris Project, founded by Brown University students to fight human trafficking, and Ambatana Threads, a handmade-clothing business utilizing the skills of refugee women.
Joining Casperson on the Spark12 leadership team are three other young people from around the country, all with day jobs serving the church. The executive director, Rev. DJ del Rosario, is director of young adult ministry discernment and enlistment for the General Board of Higher Education & Ministry; Director of Communications Patrick Scriven is associate director of connectional ministries for the Pacific Northwest Annual Conference; and Director of Community Care Joseph D. Kim is director of children's rights advocacy for the General Board of Church & Society.
As Spark12's director of internal operations, Casperson's role is to take the big ideas of her teammates and figure out how to make them happen.
"DJ is a dreamer. I'm like, 'We need a spreadsheet,'" Casperson said, laughing.
One of the things the group had to dream up was a name. "Our previous name was Genesis Project," Casperson said. "But that was far too common. Everything from an Orthodox Jewish outreach organization to Star Trek II: The Wrath of Khan has used it." A brainstorming session with Corhouse, a Seattle branding company, led the group to choose "Spark12," honoring a number that appears frequently in biblical text, from the 12 apostles to the 12 tribes of Israel to the 12 remaining baskets of food after Jesus fed the multitudes.
Casperson said the process of defining the Spark12 mission gave her a new appreciation for the principles and values she absorbed as an MTSO student.
"The entire team is about developing principled Christian leaders," she said. "We are also about social justice and transforming the world, and that parallels the way I was shaped and formed at MTSO."
The synthesis of the team's vision is apparent in the first words of the group's mission statement: "Spark12 invests in young entrepreneurs to launch innovative ideas that will transform the world."
Spark12 is one of several areas beyond MTSO where Casperson puts her education to use. Among other things, she is Design Team co-chair for Exploration 2013, an event for young people considering ordained ministry, and a member of the Campus Ministry Task Force of the West Ohio Annual Conference. She also is pursuing a Ph.D. in higher education administration at Ohio University.
It all makes her grateful for her experiences as an MTSO student: "I would not have had the foundation to do these things and think this way without this education."
Methodist Theological School in Ohio prepares leaders of many faith traditions for lives of significance in service to the church and the world. The school offers master's degrees in divinity, counseling ministries, theological studies and practical theology, as well as a Doctor of Ministry degree. For more information, visit www.mtso.edu.
CONTACT:
Danny Russell, director of communications
drussell@mtso.edu, 740-362-3322