January 8, 2012
Event
Claremont's Monica A. Coleman to speak at Williams Institute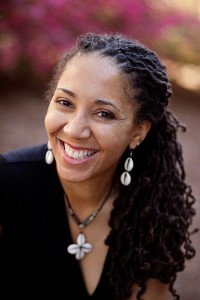 Writer, scholar and activist Monica A. Coleman will deliver two February lectures at MTSO. "Interreligious Outsiders" is the theme for the 2012 Williams Institute lectures, to be presented by Coleman at 7 p.m. Feb. 28 and 11:30 a.m. Feb. 29 in the Alford Centrum. The lectures are free and open to the public. No registration is necessary.
Coleman is associate professor of constructive theology and African American religions at Claremont School of Theology in southern California, where she also serves as co-director of Claremont's Center for Process Studies. Her Feb. 28 lecture title is "Multiple Religious Belonging: How African American History Expands Theories of Religious Pluralism." On Feb. 29, she'll speak on the topic "Transreligious Spirituality: Process Philosophy, New Thought Religions and Religious Pluralism."
An ordained elder in the African Methodist Episcopal Church, Coleman earned doctoral and master's degrees from Claremont Graduate University, and a Master of Divinity degree from Vanderbilt University Divinity School. Her research interests include process theology, new movements in black and womanist theologies, African traditional religions, mental health and theology, and religious pluralism.
Coleman founded and coordinated the Dinah Project, an organized church response to sexual violence, at Metropolitan Interdenominational Church in Nashville. Her writings focus on the role of faith in addressing critical social issues. She wrote about church responses to sexual violence in her book The Dinah Project: A Handbook for Congregational Response to Sexual Violence. In Making a Way Out of No Way: A Womanist Theology, she discusses interreligious responses to the joys and pains of black women's lives. She is co-editor of Creating Women's Theology: A Movement Engaging Process Thought.
MTSO's Williams Institute was begun in 1981 to honor the late Dr. Ronald L. Williams, professor of theology from 1971 until his death in 1981. The institute has featured speakers from many backgrounds, including theologians, ethicists, poets, biblical scholars, historians, pastoral psychologists and Christian educators.
Methodist Theological School in Ohio prepares leaders of many faith traditions for lives of significance in service to the church and the world. The school offers master's degrees in divinity, counseling ministries, theological studies and practical theology, as well as a Doctor of Ministry degree. For more information, visit www.mtso.edu.
CONTACT:
Danny Russell, director of communications
drussell@mtso.edu, 740-362-3322