May 8, 2012
News
Student achievement honored at 2012 Closing Convocation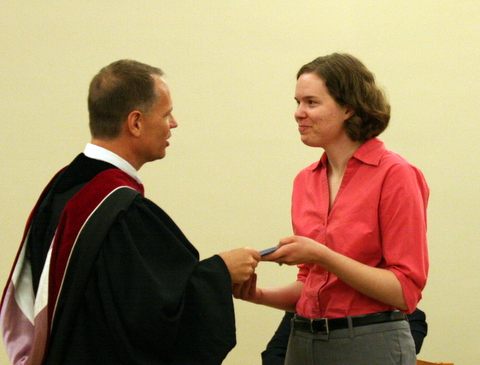 Methodist Theological School in Ohio celebrated student achievement in scholarship, leadership and service at the school's Closing Convocation and Awards Ceremony May 8.
The following students were recognized for earning scholarships for the 2012-13 academic year.
The John W. and Mary Alford Family Awards are presented to students who distinguish themselves through academics, promise for pastoral ministry, ability to articulate the Christian faith, and potential for preaching. Recipients: Deborah Caulk, Kyle Cunningham, Seth Evans, Byunghee Lee and Randy May.
The Zook Family Awards for Competence in Parish Ministry are presented to continuing students on the basis of promise, ability, gifts and graces for strong Christian ministry. Recipients: Caleb Pitkin and Laura White.
The Werner Merit Awards are presented to returning students who demonstrate excellence in theological studies, demonstrated in part by achieving a grade point average of 3.5 or higher. Recipients: Christopher Austin, Casey Cook, Gregory Kendrick, Rina Shere, Jennifer Stockwell and Grace Welch.
The following students received awards for individual achievement.
The Nystrand Award in Homiletics honors the Reverend Doctor Philip O. Nystrand and encourages excellent preaching. It is given to a rising senior in the Master of Divinity program who demonstrates promise in homiletics. Recipient: Robert Miller.
The Gindlesperger Bible Award recognizes a graduate who has demonstrated competence in biblical studies and who is humble, diligent and anxious to learn and grow in grace. Recipient: Alissa Pummell.
The Ronald L. Williams Book Prize in Theology and Ethics honors the memory of MTSO Professor Ronald L. Williams. It is awarded to a student with extraordinary potential in theological and ethical studies and reflection. Recipient: Megan Coggins.
The Matey Janata Freedwomen Award honors the memory of Matey Janata, a trustee and 1976 graduate of MTSO who distinguished herself through her work within the church and the broader community. It is awarded to a graduating senior who has submitted a paper that deals with women's issues in a significant way. Recipient: Alissa Pummell.
The Chalice Press Book Award honors an outstanding graduate whose potential for service in Christ's church is exceptionally high. Recipient: Dina Andrews.
The Hoyt Hickman Award recognizes a graduating student who has given evidence of high-quality scholarship in the study of liturgy and who is an effective leader of Christian worship. Recipient: Kristen Wall-Love.
The Charles A. Dice Fellowship encourages and assists exceptional students in continuing their theological education beyond the Master of Divinity at another institution of recognized excellence. Selection is based on academic excellence, personal character, professional competence, and promise of usefulness in Christian ministry or the teaching profession. Recipients: Christina Fetherolf and Tracy Temple.
The Pastoral Counseling Service and Achievement Award is presented to Master of Arts in Counseling Ministries seniors who embody the quest for excellence in professional counseling development. The recipients also demonstrate significant involvement in community service, while maintaining high standards of academic achievement. Recipients: Jonathan Cosner and Petina Lott.
The Interpretation Journal Awards are presented to five graduates who are identified by faculty as having distinguished themselves in biblical and theological studies and who intend to pursue careers in parish ministry. Recipients: Christina Fetherolf, Katherine Dickson, Allison Lynn-Mowery, Tracy Temple and David Kling.
The Bishop Judith Craig Prize in Christian Education honors Bishop Craig, whose ministry began as a Christian educator. It recognizes academic excellence; a solid record of service in the local church in a field placement; positive contributions to campus life, the district or the conference; and potential for significance in professional ministry. Recipient: Jenna Link.
The Fellowship Seminarian Award recognizes a graduating senior who displays outstanding leadership in music or worship arts, including but not limited to dance, drama, fabric art and liturgical writing. Recipient: Terry Williams.
The C. Everett and Mary Milburn Tilson Social Justice Grant honors the lives and legacies of C. Everett and Mary Milburn Tilson. This award honors the Tilsons' lifelong devotion social justice, most notably in the civil rights movement. The grant is given to a graduating senior who has demonstrated, both in practice and profession, a commitment to a prophetic vocation of compassionate justice. Recipient: Meredith McDougle.
The Servant Leader Award recognizes a graduating senior who has given exceptional and sacrificial service to MTSO, and has inspired others to do the same. The award consists of a water basin and a towel, evoking Jesus' washing of his disciples' feet. Recipient: Brian West.
Candid photos from Closing Convocation are displayed on MTSO's Picasaweb page.
Methodist Theological School in Ohio prepares leaders of many faith traditions for lives of significance in service to the church and the world. The school offers master's degrees in divinity, counseling ministries, theological studies and practical theology, as well as a Doctor of Ministry degree. For more information, visit www.mtso.edu.
CONTACT:
Danny Russell, director of communications
drussell@mtso.edu, 740-362-3322