April 19, 2012
Event
Inspired by Micah 6:8, MTSO students organize 'Do-Love-Walk'
The April 28 event is centered on discussing and inspiring social-justice ministry.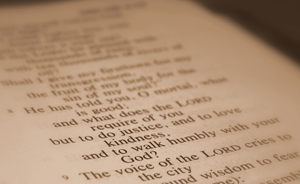 Students of Methodist Theological School in Ohio are hosting "Do-Love-Walk," a one-day campus event welcoming everyone. Participants are invited to come together in order to explore a variety of means, methods, organizations, outlets and opportunities for engaging in social-justice ministries. The April 28 event begins with a noon lunch in the campus coffee shop and ends following a 6:30 dinner and film discussion.
Participants are welcome to come for all or part of the day. Participation and meals are free, and advance registration isn't required.
"Do-Love-Walk" is being organized by MTSO students Abby Salak, Brian West and Kim Wisecup, who were inspired by a well-known passage in Micah 6:8: "...and what does the Lord require of you but to do justice, and to love kindness, and to walk humbly with your God?" The agenda is designed to help both laity and clergy examine and name their own passions, interests, social concerns and experiences. The topics and social-justice ministries to be represented will include but are not limited to: fair trade, ecological justice, capital punishment, poverty, refugees, human sexuality, disabilities, prison ministries and prison reform, as well as human trafficking.
April 28 'Do-Walk-Love' Schedule
Noon: Registration and Lunch
1:30 p.m.: Chapel Service
An Ecumenical worship service will be held in MTSO's Centrum.
2:30 p.m.: Resource Fair
The highlight of the day, the resource fair will be a time for participants to speak and interact with numerous individuals and representatives who are involved in a wide variety of social justice initiatives. Participants will have time to engage and explore many different expressions of social justice, perhaps even finding new avenues for their own ministries.
5 p.m.: Viewing of the film Urban Roots
Through the stories it tells and the examples it offers, Urban Roots offers a compelling example of how passion for social justice and the observed need for better health, food, and eco-education in urban environments can be addressed through the development of urban gardens.
6:30 p.m.: Dinner and film discussion
While enjoying dinner, participants are invited to engage in a brief discussion regarding the film and our various thoughts and reactions to it.
Questions about "Do-Love-Walk" may be sent to dolovewalk@mtso.edu.
Methodist Theological School in Ohio prepares leaders of many faith traditions for lives of significance in service to the church and the world. The school offers master's degrees in divinity, counseling ministries, theological studies and practical theology, as well as a Doctor of Ministry degree. For more information, visit www.mtso.edu.
CONTACT:
Danny Russell, director of communications
drussell@mtso.edu, 740-362-3322