November 30, 2011
Event
Lorenza Andrade Smith to lead DREAM Act conversation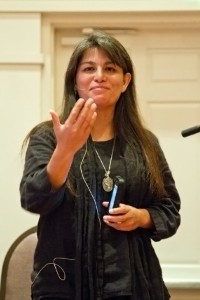 Methodist Theological School in Ohio will host a conversation about the DREAM Act at 5 p.m. Dec. 5 in the campus's Coffee Shop on the ground level of Werner Hall. The conversation is open to the public. It will be led by Rev. Lorenza Andrade Smith, an elder in the United Methodist Church who has been appointed to ministry with the poor and marginalized.
The Development, Relief and Education for Alien Minors Act would allow young adults who were brought to the U.S. as children by their undocumented parents a path to U.S. citizenship in exchange for two years of college or military service. It would permit them to continue to live and work here without fear of deportation during their service or education. MTSO's faculty has issued a statement supporting passage of the DREAM Act by Congress. Read the faculty's full statement here. The faculty also advocates the celebration of a DREAM Sabbath in churches Jan. 6.
As part of her United Methodist appointment, Smith lives among the homeless. Prior to this appointment, she served as pastor of Westlawn UMC in San Antonio. Participants in the conversation Smith leads Dec. 5 will consider how to prepare congregations for a DREAM Sabbath and how to address broader issues of immigration, naturalization and human rights in churches.
Methodist Theological School in Ohio prepares transformational leaders of many faith traditions for service to the church and the world. MTSO offers master's degrees in divinity, counseling ministries, theological studies and practical theology, as well as a Doctor of Ministry degree. For more information, visit www.mtso.edu.
CONTACT:
Danny Russell, director of communications
drussell@mtso.edu, 740-362-3322