July 3, 2013
News
East Ohio Conference ordains and commissions MTSO alumni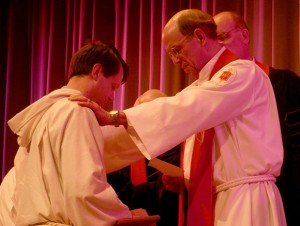 Methodist Theological School in Ohio recognizes and celebrates the ordination and commissioning of MTSO alumni during the 2013 East Ohio Annual Conference.
Three alumni were ordained as elders during the June 18 ceremony:
William Brewer, serving Mt. Pleasant United Methodist Church in Cleveland.
Pam Buzalka, serving Boardman UMC in Youngstown.
Micah Holland, serving Middlefield UMC.
Three alumni were commissioned as provisional elders:
Andrew Call, serving Oberlin First UMC.
Robin Dillon, serving Oak Chapel United Methodist Church in Wooster.
Mary Owen, serving Winona UMC.
"We look forward to reuniting with friends and colleagues at Lakeside every year," said MTSO President Jay Rundell. "And it's always a highlight to see our alums who are serving the people of East Ohio ordained and commissioned."
More information and photos from the ordination and commissioning service are available at the East Ohio Conference website. Also a Flickr photo gallery can be viewed here.
Methodist Theological School in Ohio prepares leaders of many faith traditions for lives of significance in service to the church and the world. The school offers master's degrees in divinity, counseling ministries, theological studies and practical theology, as well as a Doctor of Ministry degree. For more information, visit www.mtso.edu.
CONTACT:
Danny Russell, director of communications
drussell@mtso.edu, 740-362-3322