October 27, 2011
Event Recap
Eco-theology scholar commends MTSO for 'dynamite' specializations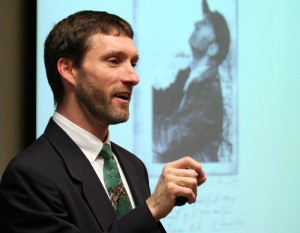 A visiting eco-theology expert commended MTSO's commitment to this growing field during a campus appearance Oct. 27. Gregory Hitzhusen, a lecturer at Ohio State University's School of Environment and Natural Resources, spoke to MTSO students, faculty and guests on the topic "Resources for Eco-Theology." His appearance was funded through a grant by the American Theological Library Association (ATLA).
"You've got this new specialization that's dynamite," said Hitzhusen, referring to ecological specializations MTSO offers within its Master of Divinity and Master of Arts in Practical Theology programs. In the 1990s, Hitzhusen said, he had difficulty finding a school where he could do graduate-level work in eco-theology. He eventually went to Yale Divinity School, where he earned a Master of Divinity degree that incorporated ecological studies at Yale University. He later earned a Ph.D. from Cornell University.
For many years, Hitzhusen said, theology and ecology seemed to be at odds. His environmental professors would tell him, "Religion is the problem," and a pastor he respected was unimpressed with those who were more drawn to nature than the inside of a church, referring to them as "blue domers."
But over time, religion and ecology have found each other, Hitzhusen said. He has done research on the number of volumes mentioning "ecology" or "environment" cataloged by the ATLA, a collection that has grown steadily, with a large jump following the first Earth Day in 1970.
He also has surveyed those around the country who speak to faith-based groups about the environment, asking them what messages are most effective. Discussions of stewardship and eco-justice resonate, he found, while scare tactics and overly technical information don't.
Hitzhusen recommended a number of resources to those in the audience, including the Green Seminary Initiative, where MTSO is one of 16 schools that have submitted a Seminary Green Profile.
"I'm always very excited when seminaries take ecology seriously," he said. "When faith communities take ecology seriously, then the earth has a prayer."
Methodist Theological School in Ohio prepares transformational leaders of many faith traditions for service to the church and the world. MTSO offers master's degrees in divinity, counseling ministries, theological studies and practical theology, as well as a Doctor of Ministry degree. For more information, visit www.mtso.edu.
CONTACT:
Danny Russell, director of communications
drussell@mtso.edu, 740-362-3322