February 29, 2012
Event
Greek Orthodox bishop and Muslim scholar share Lecture on World Religions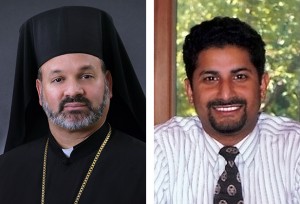 A Greek Orthodox bishop and a Muslim scholar will discuss historical relations between the two faith traditions at the Eighth Annual Lecture on World Religions and Interreligious Dialogue, sponsored by the Theological Consortium of Greater Columbus. The lecture will be held at 7 p.m. April 18 in the Gloria Dei Worship Center on the campus of Trinity Lutheran Seminary, 2199 E. Main St. in Bexley. It is free and open to the public.
Methodist Theological School in Ohio is a member of the Theological Consortium, along with Trinity Lutheran Seminary and Pontifical College Josephinum. The lecture is coordinated by Dr. Paul Numrich, an expert on world religions and interreligious relations and a tenured member of the MTSO and Trinity faculties.
The April 18 lecture, "Conversion and Conflict: Reflections by a Greek Orthodox Bishop and Response by a Muslim Scholar," features Bishop Demetrios of Mokissos and Azam Nizamuddin. They will consider the two faith traditions' approaches to the notion of conversion – ranging from mutual peaceful tolerance to violent hostility – and will examine how these two traditions may move from the turbulent present into a peaceful future based on the positive contributions of current dialogue.
Bishop Demetrios, born Demetri Kantzavelos, serves as an auxiliary bishop of the Greek Orthodox Archdiocese of America and as Chancellor of the Greek Orthodox Metropolis of Chicago. He is renowned for his ecumenical and interfaith work, including efforts to improve relations between the Turkish and Greek communities in Chicago, for which he received the Fethullah Gulen Award from the Niagara Foundation, a Turkish Muslim organization. He is a member of the Illinois State Advisory Committee of the U.S. Commission on Civil Rights and a regular contributor of editorials on issues concerning the Greek Orthodox faith and Hellenic culture in local and national media outlets.
Azam Nizamuddin is principal of a law firm in the Chicago area, where he practices business litigation, family law and real estate law. He teaches Introduction to Islamic Law (Sharia) in the School of Law, Loyola University Chicago, as well as courses on Islam and History of Islamic Thought in Loyola's Department of Theology. Nizamuddin lectures extensively on Islamic theology, law and civilization, and he has provided testimony to the Illinois Commission on Civil Rights regarding the status of the American Muslim community after 9/11.
Methodist Theological School in Ohio prepares leaders of many faith traditions for lives of significance in service to the church and the world. The school offers master's degrees in divinity, counseling ministries, theological studies and practical theology, as well as a Doctor of Ministry degree. For more information, visit www.mtso.edu.
CONTACT:
Danny Russell, director of communications
drussell@mtso.edu, 740-362-3322