April 25, 2014
News
Emeritus Professor Paul Minus will deliver 2014 commencement address
MTSO will confer degrees May 24 in Dickinson Courtyard.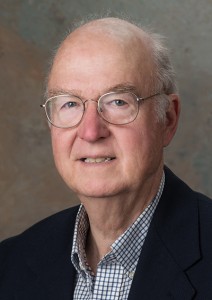 Paul Minus, whose life of service to the church and the world includes 25 years teaching at Methodist Theological School in Ohio, will deliver the school's 2014 commencement address May 24. The ceremony begins at 11 a.m. in Dickinson Courtyard on the MTSO campus, 3081 Columbus Pike in Delaware. Guests are welcome, and tickets are not required.
Minus is emeritus professor of church history at MTSO, where he taught from 1964 to 1988. Now a resident of California, he returns to MTSO 50 years after participating in an act of civil disobedience that gained national attention. Minus was among four MTSO faculty members arrested on Easter Sunday 1964 in Jackson, Miss., while attempting to accompany two African-American men into services at an all-white Methodist church.
After earning undergraduate, theological and doctoral degrees at Yale University, Minus served as university chaplain at Florida State University before coming to MTSO. After leaving MTSO, he became founding president of the Council for Ethics in Economics. In retirement, he has served on a long list of boards and has continued to author books on a range of topics. He currently serves on groups focused on energy conservation and environmental concerns in his residential community.
Minus is married to the former Jean Clegg Dickinson, whose late husband, Buford Dickinson, served as MTSO's president from 1981 to 1985.
"Dr. Minus's life is one of lasting contributions in the classroom, the church and broader community," said MTSO President Jay Rundell. "His work toward a more just and sustainable world continues to evolve but never flags. It will be an honor and a pleasure to welcome Paul and Jean back to our campus."
Methodist Theological School in Ohio prepares leaders of many faith traditions for lives of lasting significance in service to the church and the world. In addition to the Master of Divinity degree, the school offers master's degrees in counseling ministries, theological studies and practical theology, along with a Doctor of Ministry degree. For more information, visit www.mtso.edu.
CONTACT:
Danny Russell, director of communications
drussell@mtso.edu, 740-362-3322