August 10, 2011
Feature
Freedom Schools thrive, with assistance from the MTSO community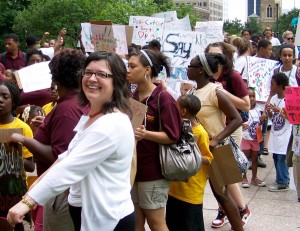 In the summer of 1964, a movement took hold in Mississippi and other parts of the South to confront the inequality of educational opportunities for African-Americans. "Freedom Schools" were established and led largely by college students, offering academic enrichment and encouraging political engagement among those who attended. While people of all ages learned at those Freedom Schools, most were school-age children.
Forty-seven years later, Greater Columbus has experienced its own Freedom Summer. Hundreds of children, primarily from low-income neighborhoods, attended Children's Defense Fund Freedom Schools at eight sites throughout the city. In Ohio, the Freedom Schools program is administered by Laura Young, senior organizer for the Children's Defense Fund-Ohio and a 2007 MTSO grad. Young is one of many MTSO alums, students, faculty and staff who seized the opportunity to contribute to this exciting program.
"Methesco taught me a lot about practical theology," Young said. "It's one thing to preach it, and it's another to be able to preach it in order to be able to empower people to do it." Ohio's 12 Freedom Schools – all overseen by Young – celebrated the "Grand Finale" of their six-week term July 29. Next year, she hopes to see the number of schools grow.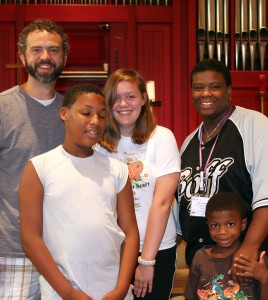 Mark Reed, second-year MTSO student, serves as director of children's ministries at Summit on 16th UMC and project director for the Freedom School the church hosted. Summit's lead pastor, 2009 MTSO grad April Blaine, is executive director of Freedom Schools at both Summit and nearby Maynard Avenue UMC.
"There's a lot about Jesus's work that I think we need to be more aware of in our everyday lives," Reed said. "Some of that comes from giving people the tools they need to reach their potential or their dreams and hopes for their own lives. That's why I think this is an important tie-in to what we're doing at MTSO."
On Columbus's west side, three Freedom Schools are operated by the Hilltop Shalom Zone, a nonprofit organization working for justice, peacemaking and the renewal of the Hilltop community. Retired United Methodist Bishop C. Joseph Sprague, a 1965 graduate of MTSO, founded the Shalom Zone and recently retired as its executive director. Julia Nielsen Bingman, MTSO class of 2009, is now director of the Shalom Zone.
"With constant reports of urban woes and rampant violence, Central Ohioans can rejoice in the good news contained in the eight Columbus-area Freedom Schools," Sprague said. "The Zone's three schools on the Hilltop, which, in cooperation with Columbus City Schools, served 150 youngsters and employed 18 college young adults, resonated with the joy of reading, the strength of mentors, and the sheer glee of sweet dreams replacing the sour nightmares of God's precious urban children."
The Freedom School model stresses literacy enrichment, family involvement, civic engagement and social action, intergenerational leadership development, and health and nutrition. Nationally, one-third of Freedom Schools are sponsored by faith-based organizations. They're funded through grants, not tuition, and are open to all school children.
"One of the key components is that the children, who are age 5 through 18, are taught the curriculum by college-age students," Young said. The ratio of scholars, as the young students are called, to college-age servant leader interns is 10-to-1. Each day opens with Harambee, a half-hour assembly of affirmation and preparation for the day ahead. Mornings are devoted to literacy and feature books chosen for their relevance to the scholars' lives and the message that they can make a difference for themselves, their families and the world.
"We spend about 2 1/2 hours teaching the book," Reed said. "Not just reading the book together, but teaching the book in about three or four different learning styles so they're able to really get it even though they may not be terribly proficient at reading itself."
"Then, in the afternoon, we try to open some of their geographic boundaries by taking them on field trips and doing art activities and things they might not have already experienced in their lives," he said. "We provide breakfast, lunch and a snack each day, and try to make it as fun as we can make it along the way."
As part of the Columbus Freedom Schools' social-action component, more than 400 scholars and 150 adults participated in a National Day of Social Action July 13 by holding a rally at Broad Street UMC and marching to the Ohio Statehouse to oppose education budget cuts.
As Ohio's 2011 Freedom Summer drew to a close, Young was energized by this year's successes and excited about the possibility of a growing presence for the program next year.
"The point of it all is to show children that they can make a difference in the world," she said. "I think our society will be judged by how we treat our children."
Methodist Theological School in Ohio prepares transformational leaders of many faith traditions for service to the church and the world. MTSO offers master's degrees in divinity, counseling ministries, theological studies and practical theology, as well as a Doctor of Ministry degree. For more information, visit www.mtso.edu.
CONTACT:
Danny Russell, director of communications
drussell@mtso.edu, 740-362-3322