April 30, 2013
Event
Rev. John Edgar of Church for All People will address MTSO graduates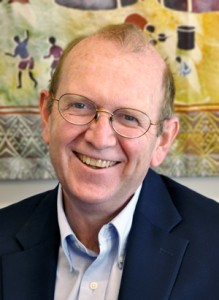 The Rev. John Edgar, who leads Community Development for All People and the United Methodist Church for All People, will deliver Methodist Theological School in Ohio's 2013 commencement address.
The ceremony begins at 11 a.m. May 18 in the Dickinson Courtyard on the MTSO campus. Guests are welcome, and tickets are not required. A live video broadcast will be available on MTSO's Livestream page.
Edgar has built a widely recognized ministry centered on improving the quality of life for those on the margins of society. He is pastor of the United Methodist Church for All People and executive director of Community Development for All People (CD4AP), both of which he founded on the south side of Columbus in 2003. CD4AP's ministries include the Free Store, a primary-care health station, and the purchase and renovation of vacant, blighted houses in a 35-square-block area.
Edgar earned his Master of Divinity degree from Harvard Divinity School and a bachelor's in sociology from Miami University. His previous ministry appointments include the superintendency of the Columbus South District of the West Ohio Conference of the United Methodist Church. In recent years, he has been an adjunct faculty member at MTSO, teaching classes focused on working with low-income individuals.
"John truly is a leader for and with all people, and the values that guide his work are well-known to our students who have taken his classes," said MTSO President Jay Rundell. "We're pleased now to offer all of our graduates and guests an opportunity to hear the perspectives of a deeply respected leader in this vital work."
MTSO will award the following graduate degrees at its commencement: Master of Divinity, Master of Arts in Counseling Ministries, Master of Arts in Practical Theology, Master of Theological Studies and Doctor of Ministry.
Methodist Theological School in Ohio prepares leaders of many faith traditions for lives of significance in service to the church and the world. The school offers master's degrees in divinity, counseling ministries, theological studies and practical theology, as well as a Doctor of Ministry degree.
CONTACT:
Danny Russell, director of communications
drussell@mtso.edu, 740-362-3322