December 7, 2012
Events
Kampen to present two Dead Sea Scrolls lectures in Cincinnati
Talks coincide with the major exhibit at the Cincinnati Museum Center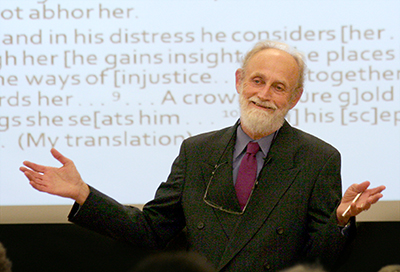 Dead Sea Scrolls scholar John Kampen will present a lecture, "Modern Research on Ancient Texts: The Story of the Dead Sea Scrolls," at two Cincinnati locations in January.
Kampen will speak at 3 p.m. Jan. 13 at Anderson Hills United Methodist Church, 7515 Forest Road. He will speak at 6:30 p.m. Jan. 15 at Hyde Park Community United Methodist Church, 1345 Grace Ave., where complimentary hors d'oeuvres will be served at 6 p.m. Both lectures are free and open to the public.
Kampen, MTSO's Van Bogard Dunn Professor of Biblical Interpretation, presents these lectures to add context to the major Dead Sea Scrolls exhibit currently on display at the Cincinnati Museum Center.
Kampen's lecture describes and illustrates briefly the archaeological context of the site of Qumran and the caves where the scrolls were first discovered in 1947. He outlines the different type of texts that are part of this collection, which includes fragments of almost 1,000 manuscripts, and outlines the significance of some of them for our understanding of the Jewish history of that time period.
This offers insights into our understanding of Christian origins and the development of Rabbinic Judaism. Kampen gives particular attention to those texts that became widely available only after 1991, including those that are part of the exhibit in Cincinnati.
Kampen is most recently the author of Wisdom Literature, a commentary on the remarkable collection of wisdom compositions that have been the subject of intense study in the past decade and a half. He served a six-year term as co-chair of the Qumran Studies section of the Society of Biblical Literature.
A graduate of the Hebrew Union College-Jewish Institute of Religion in Cincinnati, Kampen is engaged in continuing research on the relationship of the Qumran texts to the Gospel of Matthew.
Prior to his current appointment, he served as academic dean of Payne Theological Seminary, Bluffton University and MTSO. He has published articles in related areas of concern such as African-Americans and the Bible, the New Testament and anti-Semitism, non-violence, and issues of Mennonite identity.
The exhibit "Dead Sea Scrolls: Life and Faith in Ancient Times" is scheduled to run through mid-April at the Cincinnati Museum Center. It features the most comprehensive collection of ancient artifacts from Israel ever organized, including one of the largest collections of the priceless 2,000-year-old Dead Sea Scrolls.
Methodist Theological School in Ohio prepares transformational leaders of many faith traditions for service to the church and the world. MTSO offers master's degrees in divinity, counseling ministries, theological studies and practical theology, as well as a Doctor of Ministry degree. For more information, visit www.mtso.edu.
CONTACT:
Danny Russell, director of communications
drussell@mtso.edu, 740-362-3322
Professor John Kampen
jkampen@mtso.edu, 740-362-3364