Zimmerman
Most responses to human trafficking focus on rescuing victims, prosecuting traffickers and advancing measures to protect individuals who are vulnerable to being trafficked. Some of these initiatives have harmful side effects. Methodist Theological School in Ohio Associate Professor of Christian Ethics Yvonne Zimmerman and Candler School of Theology Assistant Professor in the Practice of Ethics and Society Letitia Campbell are advocating alternative approaches.
The two will present a lecture, "Beyond the Politics of Rescue: Organizing, Empowerment, and Harm Reduction in the Movement to End Human Trafficking," at 7 p.m. May 1 in the Alford Centrum on the MTSO campus, 3081 Columbus Pike in Delaware. The lecture, presented by the Theological Commons at MTSO, is free and open to the public.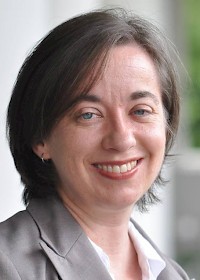 Zimmerman and Campbell argue that the effect of many well-intended anti-trafficking initiatives is to intensify policing and surveillance of marginalized communities, including poor people, immigrants, people of color, and people who are queer, trans and gender non-conforming. Seeking to identify alternatives to the protection-rescue-criminalization model of anti-trafficking interventions, Zimmerman and Campbell will profile the work of several organizations across the country that are experimenting with innovative ways to resist systemic oppression and exploitation and effectively address human trafficking.
The research Campbell and Zimmerman will be presenting is part of a book project on which they're collaborating, focusing on the unique theological perspectives and moral resources that progressive Christianity can bring to the broadly shared goal of ending exploitation and human trafficking.
The research builds on their previous collaborations. Zimmerman and Campbell contributed the chapter "Forced Labor and the Movement to End Human Trafficking" to the 2017 volume The Companion to Public Theology. Their article "Christian Ethics and Human Trafficking Activism: Progressive Christianity and Social Critique" appears in the 2017 book Sex and Gender: Christian Ethical Reflections.
Zimmerman, who also serves as MTSO's associate academic dean, is the author of the 2012 book Other Dreams of Freedom: Religion, Sex and Human Trafficking. She holds a Ph.D. from Iliff School of Theology and the University of Denver, a Master of Theological Studies degree from Candler School of Theology, and a Bachelor of Arts degree from Goshen College.
Campbell's current research focuses on the history of ethical debates surrounding the popular practice of Christian mission trips, in addition to her work around the impact of religious activism on the movement to end human trafficking. She holds a Ph.D. from Emory University, a Master of Divinity degree from Union Theological Seminary, and Bachelor of Arts degrees from Davidson College and Oxford University, where she studied as a Rhodes Scholar.
Methodist Theological School in Ohio provides theological education and leadership in pursuit of a just, sustainable and generative world. In addition to the Master of Divinity degree, the school offers master's degrees in counseling, theological studies and practical theology, along with a Doctor of Ministry degree. Learn more at www.mtso.edu.
Engage with MTSO through Facebook and Twitter (@MTSOedu).
CONTACT: 
Danny Russell, communications director
drussell@mtso.edu, 740-362-3322