September 13, 2019
EVENT
Lecture focuses on women's participation in food justice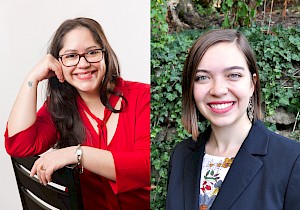 In many parts of the world, women play a key role in resisting dominant industrial agriculture through involvement with sustainable agriculture. A lecture by MTSO Assistant Professor of Theology, Ecology and Race Elaine Nogueira-Godsey and Ohio State University doctoral student Kelsey Ryan-Simkins offers actions those in North America can take in solidarity with those who struggle with food injustice.
Nogueira-Godsey and Ryan-Simkins will present "Women's Participation in Food Justice: Developing Transnational Solidarity" at 7 p.m. Sept. 24 in MTSO's Alford Centrum, 3081 Columbus Pike in Delaware. The lecture, presented by the Theological Commons at MTSO, is free and open to the public. Live and archived video will be available on MTSO's Livestream page.
A 2007 assessment by the Intergovernmental Panel on Climate Change found that rural women in developing countries are among the most vulnerable groups to the consequences of climate change. More recently, Indian physicist Vandana Shiva has drawn attention to the negative effects of climate change for agrarian Indian women whose livelihoods and survival are threatened when food economies are globalized.
At their Sept. 24 lecture, Nogueira-Godsey and Ryan-Simkins will expand on these findings and share research they first presented in June at the International Conference of the International Society for the Study of Religion, Nature and Culture in Cork, Ireland.
Elaine Nogueira-Godsey brings a global perspective to her teaching and scholarly research. A native of Brazil, where she received her bachelor's degree, she earned her master's and Ph.D. from the University of Cape Town in South Africa.
She has written extensively on the intersection of ecology, race, gender and theology. In 2017, the GlobalChurch Project named Nogueira-Godsey one of "18 Latin American female theologians you should know about."
Kelsey Ryan-Simkins, who earned a Master of Arts in Practical Theology degree from MTSO, is pursuing her Ph.D. in the School of Environment and Natural Resources at Ohio State University. She has been involved with several applied projects that aim to implement equitable food system transformation through the establishment of food hubs in marginalized Columbus neighborhoods.
Methodist Theological School in Ohio provides theological education and leadership in pursuit of a just, sustainable and generative world. In addition to the Master of Divinity degree, the school offers master's degrees in counseling, social justice, theological studies and practical theology, along with a Doctor of Ministry degree.
CONTACT:
Danny Russell, communications director
drussell@mtso.edu, 740-362-3322