October 16, 2014
Event
MTSO presents art exhibition: 'Liberation from Bondage'
The show begins with a panel discussion Oct. 29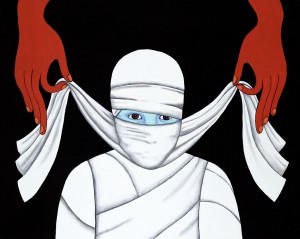 Methodist Theological School in Ohio will host a four-artist exhibition titled "Liberation from Bondage" Oct. 29 through Nov. 13. Paintings and sculptures by Columbus-based artists Lynda McClanahan, Sarah Hahn, Sherry Farris and Ellice Park will be displayed in the Gallery on the MTSO campus, 3081 Columbus Pike in Delaware. The Gallery is open to the public 10 a.m.-6 p.m. Monday through Saturday and 2-6 p.m. Sunday.
Curated by Park, an MTSO student, "Liberation from Bondage" is an interfaith display of works inspired by the journeys people take to reclaim their basic human freedoms. Those freedoms span emotional and cognitive processes, multigenerational heritage, and theological and sociological cultural dynamics in a diverse society.
A public panel discussion with artists and MTSO seminary faculty will be held at 2 p.m. Oct. 29 in the Alford Centrum, adjacent to the Gallery on the MTSO campus. Refreshments will be served.
Methodist Theological School in Ohio prepares leaders of many faith traditions for lives of lasting significance in service to the church and the world. In addition to the Master of Divinity degree, the school offers master's degrees in counseling ministries, theological studies and practical theology, along with a Doctor of Ministry degree.
CONTACT:
Danny Russell, director of communications
drussell@mtso.edu, 740-362-3322