August 27, 2012
News
Library unveils BibleWorks 9 and improved borrowing policies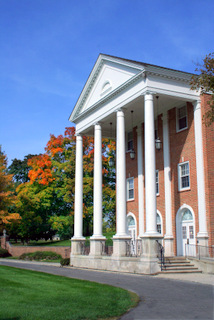 The Dickhaut Library at MTSO offers new resources and enhanced borrowing policies as it welcomes students for the start of the 2012-13 academic year.
BibleWorks 9 is now available on a workstation near the library entrance. This latest version of a popular biblical studies resource provides the capability to perform close exegesis of original text in more than 200 Bible translations in 40 languages, along with morphology databases, dozens of lexical-grammatical references and a wealth of practical reference works.
A new, more liberal borrowing policy will greet those using the Ohio Private Academic Libraries (OPAL) and OhioLINK consortia this year. Book borrowing periods have been extended to six renewals on 21-day loans for students and six renewals on 42-day loans for faculty.
Also, OPAL now offers a mobile-optimized version of its library catalog at http://m.opal-libraries.org.
"We're always looking for ways that our technology and our relationships with other libraries can enhance the research experience for our community," said Paul Burnam, director of the Dickhaut Library. "It's gratifying to be able to offer these new services to our students, faculty and alumni."
The Dickhaut Library holds more than 130,000 volumes onsite and offers borrowers access to 48 million volumes through its membership in OPAL and OhioLINK. The library also provides access to roughly 30,000 electronic and print journals.
Methodist Theological School in Ohio prepares transformational leaders of many faith traditions for service to the church and the world. MTSO offers master's degrees in divinity, counseling ministries, theological studies and practical theology, as well as a Doctor of Ministry degree. For more information, visit www.mtso.edu.
CONTACT:
Danny Russell, director of communications
drussell@mtso.edu, 740-362-3322