April 14, 2014
News
MTSO names Withrow dean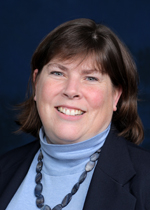 The Methodist Theological School in Ohio Board of Trustees has appointed Lisa Withrow dean and vice president of academic affairs. Withrow begins her tenure as dean July 1 and will be installed Oct. 6 as part of MTSO's Alumni Day. She replaces Randy Litchfield, who has served as academic dean since 2009 and has chosen to return to the classroom in his role as professor in the Browning Chair of Christian Education.
"Dr. Withrow has served MTSO well in her 15 years on our faculty, and she understands our ethos and our many constituencies," said MTSO President Jay Rundell. "She's someone I trust to balance tradition with innovation. This makes her the right person to lead the academic work of the school at this time."
Withrow earned her doctorate from the University of Glasgow, Scotland, her Master of Divinity degree from Duke Divinity School and her bachelor's degree from Bucknell University. She is an ordained elder and deacon in the East Ohio Conference of the United Methodist Church. In addition to serving as MTSO's associate academic dean since 2011, she has led the school's field education and Doctor of Ministry programs.
"In a world functioning by opinion poll and reactivity," Withrow said, "the seminary holds a voice of thoughtful theological perspective based in tradition intertwined with reason, creativity and persistent resilience – characteristics of leadership sorely needed today. MTSO impresses me as an environment where this quality of theological work is done for the sake of the church and the world."
Methodist Theological School in Ohio prepares leaders of many faith traditions for lives of lasting significance in service to the church and the world. In addition to the Master of Divinity degree, the school offers master's degrees in counseling ministries, theological studies and practical theology, along with a Doctor of Ministry degree. For more information, visit www.mtso.edu.
CONTACT:
Danny Russell, director of communications
drussell@mtso.edu, 740-362-3322