March 9, 2015
Event
Author and MTSO alum M. Jess Peacock discusses 'Such a Dark Thing'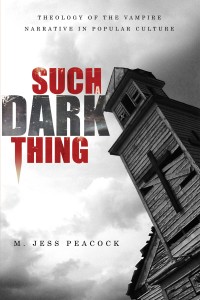 MTSO alumnus M. Jess Peacock will read from and discuss his new book, Such a Dark Thing, at 2:30 p.m. March 18 in the MTSO Coffee Shop. All are invited to this free event.
In Such a Dark Thing, published by Resource Publications, Peacock examines how the figure of the vampire is able to traverse and interconnect theology and academia within the larger popular culture. He points out that the traditional figure of the vampire in cinema and literature has a legacy of serving as a theological marker.
Peacock is the editor of Street Speech, a social justice publication of the Columbus Coalition for the Homeless. He received a Master of Divinity degree from MTSO in 2013.
Methodist Theological School in Ohio prepares leaders of many faith traditions for lives of lasting significance in service to the church and the world. In addition to the Master of Divinity degree, the school offers master's degrees in counseling ministries, theological studies and practical theology, along with a Doctor of Ministry degree.
CONTACT:
Danny Russell, director of communications
drussell@mtso.edu, 740-362-3322