January 26, 2012
Event
Mark Kelly Tyler to lead special Black History Month chapel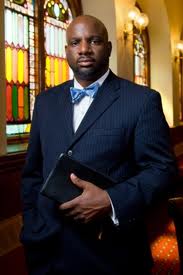 Dr. Mark Kelly Tyler, pastor of Mother Bethel African Methodist Episcopal Church in Philadelphia, will preach at the Feb. 21 chapel service at Methodist Theological School in Ohio. The service, to be held at 11:30 a.m. in the Alford Centrum, is one of seven special services marking Black History Month at MTSO. Members of the public are welcome to attend.
Tyler holds a Ph.D. in educational leadership from the University of Dayton, a Master of Divinity degree from Payne Theological Seminary in Wilberforce, Ohio, and a B.A. in religion from Clark Atlanta University. An adjunct professor at MTSO, Tyler most recently taught African-American Religious History in the fall of 2011.
In 2008, Tyler was appointed pastor of Mother Bethel, the first congregation founded by Bishop Richard Allen, the founder of the AME Church. Mother Bethel has been a spiritual, social and community force since the late 1700s.
Additional Black History Month chapel services feature sermons by MTSO faculty, alumni and students. All services begin at 11:30 a.m. in the Alford Centrum.
Feb. 7: Rev. Charles Ferguson, Second Baptist Church, Circleville
Feb. 8: Gregory E. Kendrick Jr., Master of Divinity student
Feb. 14: Marco Peterson, Master of Divinity student
Feb. 15: Dr. John Kampen, professor in the Dunn Chair in Biblical Interpretation
Feb. 21: Dr. Mark Kelly Tyler, Mother Bethel A.M.E. Church, Philadelphia
Feb. 22: Dr. Ervin Smith, emeritus professor of Christian ethics
Feb. 28: Rev. Ross Pryor, First United Methodist Church and Speers United Methodist Church, Charleroi, Pa.; Dunlevy United Methodist Church, Dunlevy, Pa.
Methodist Theological School in Ohio prepares leaders of many faith traditions for lives of significance in service to the church and the world. The school offers master's degrees in divinity, counseling ministries, theological studies and practical theology, as well as a Doctor of Ministry degree. For more information, visit www.mtso.edu.
CONTACT:
Danny Russell, director of communications
drussell@mtso.edu, 740-362-3322