January 10, 2014
News
Mercadante discusses spiritual but not religious in Dispatch interview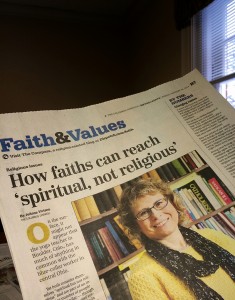 Dr. Linda Mercadante, MTSO professor in the Straker Chair of Historical Theology, discussed those who consider themselves spiritual but not religious in an interview published in the Columbus Dispatch Jan. 10. Mercadante's new book on the subject, Belief Without Borders: Inside the Minds of the Spiritual but not Religious, is due out on March.
Mercadante told the Dispatch that her research indicates most so-called SBNRs have left religion behind because they stopped agreeing with certain positions, and she suggests religious groups review and rebuild their faiths and then reach out to SBNRs.
Her previous books include Bloomfield Avenue: A Jewish-Catholic Jersey Girl's Spiritual Journey and Victims & Sinners: Spiritual Roots of Addiction and Recovery.
Methodist Theological School in Ohio prepares leaders of many faith traditions for lives of significance in service to the church and the world. The school offers master's degrees in divinity, counseling ministries, theological studies and practical theology, as well as a Doctor of Ministry degree. For more information, visit www.mtso.edu.
CONTACT:
Danny Russell, director of communications
drussell@mtso.edu, 740-362-3322