May 23, 2011
News
MTSO confers degrees at 49th commencement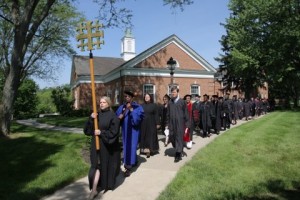 Methodist Theological School in Ohio presented graduates with master's and Doctor of Ministry degrees in a sun-drenched ceremony in the campus's Dickinson Courtyard May 21. The schools' 49th commencement featured an address by Rev. Robert Molsberry, Ohio Conference Minister for the United Church of Christ.
Molsberry drew laughs by sharing bad news and good news with graduates. "The bad news is: When you wake up tomorrow, there may not be a tomorrow," he said, referring to a widely reported prediction that May 21 would be Judgment Day. He also warned them that the predicted rapture could quickly render their degrees worthless, before adding, "The good news is: You may not have to pay for them."
He then spoke about "my own personal apocalypse 14 years ago," when he was struck by a hit-and-run driver while bicycling. He was comatose for six weeks, was hospitalized for four months and remains paraplegic. He has since written two books about disability and last year completed an Ironman-length triathlon by swimming, hand-cycling and propelling a wheelchair a combined 140.6 miles.
In reference to his book Blindsided by Grace, Molsberry said, "I was reflecting on the fact that I was not only blindsided by a pickup truck, but I was blindsided by God's presence through all of this, opening doors, making opportunities possible, experiencing a journey through a cross-cultural adventure of disability."
"As God is with me, God is with you all today and into the future," told the graduates, "not for complacency…but for confidence."
After diplomas were awarded, MTSO President Jay Rundell invited the graduates to visit the school in the future, adding, "I pray that when you come back, we will not recognize all of you in your entirety, because if we have done our work well, you will be something you have not yet been, and – believe it or not – you will believe things you do not now believe. You will see the world in ways you have yet to see it."
"If we have done our work well," he said, "you will change in ways that surprise us."
Molsberry's address is available as an audio podcast on MTSO's iTunes U page. (Podcasts are in reverse chronological order.) You will need iTunes. Apple offers a free download here.
Selected high-resolution photos of commencement are available for viewing and downloading on Picasaweb.
In addition, more than 400 photos, including the presentation of each diploma, are available for viewing and purchase on a variety of media via Shutterfly.
Methodist Theological School in Ohio prepares transformational leaders of many faith traditions for service to the church and the world. MTSO offers master's degrees in divinity, counseling ministries, theological studies and practical theology, as well as a Doctor of Ministry degree. For more information, visit www.mtso.edu.
CONTACT:
Danny Russell, director of communications
drussell@mtso.edu, 740-362-3322