January 30, 2014
Event
MTSO hosts Brodbeck organ concert
March 16 event features works by Bach, Phillips and Albright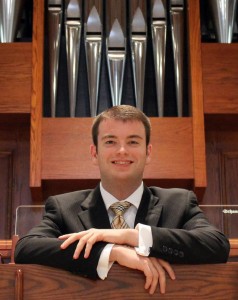 UPDATE: This release reflects a date change to March 16. Due to a forecast for hazardous weather, the concert has been postponed two weeks from its original March 2 date.
Methodist Theological School in Ohio Organist in Residence Joshua Brodbeck will present an organ concert at 7 p.m. March 16 in the Alford Centrum on the MTSO campus, 3081 Columbus Pike in Delaware. The concert is open to the public. A freewill offering will benefit music education at the seminary.
A concert organist since the age of 12, Brodbeck has performed live throughout the United States and for television and public radio. He won the Indianapolis American Guild of Organists' Young Artists competition in 2007 and has received numerous other awards.
Brodbeck holds certificates from the American Guild of Organists and is a member of the Royal College of Organists. He has studied at the Capital University Conservatory of Music and Indiana University's Jacobs School of Music. In addition to his position at MTSO, he is minister of music and artist in residence at Holy Trinity Lutheran Church in Upper Arlington.
Brodbeck's March 16 concert will feature works by J.S. Bach, Craig Phillips and William Albright, among others, played on the Alford Centrum pipe organ, built in 1975.
Methodist Theological School in Ohio prepares leaders of many faith traditions for lives of significance in service to the church and the world. The school offers master's degrees in divinity, counseling ministries, theological studies and practical theology, as well as a Doctor of Ministry degree. For more information, visit www.mtso.edu.
CONTACT:
Danny Russell, director of communications
drussell@mtso.edu, 740-362-3322