August 2, 2012
News
MTSO hosts Next Generations interns from West Ohio Conference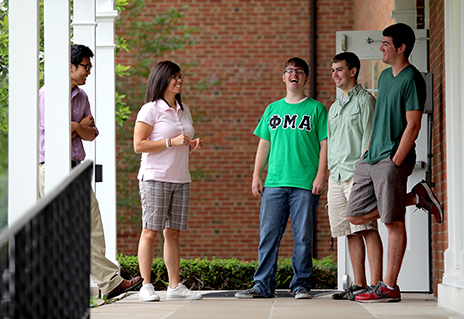 A trio of promising United Methodist ministry interns visited Methodist Theological School in Ohio July 22-24. The three are serving in the Next Generations Leadership Ministry Interns program sponsored by the West Ohio Annual Conference of the United Methodist Church.
Andy Burns, Rocky Riddle and Alex Wiles were chosen for 12-week paid summer internships, through which each serves under a mentor in a host church while exploring a call to ordained ministry. The college interns – Burns and Wiles are from Ohio Northern University, while Riddle is attending Ohio State University – also visited several seminaries and participated in nearby mission and justice ministries.
During their time on the MTSO campus, the interns met with current students and admissions counselors.
"We talked about the unique way our degree programs are structured to give students the flexibility to pursue specializations and focus on areas they find particularly interesting," said Admissions Director April Casperson. "And we were able to make them aware of our financial aid options. The number of offerings at MTSO – particularly all our full-tuition scholarships – is really a pleasant surprise for quality students like Andy, Alex and Rocky."
The interns also met with Academic Dean Randy Litchfield – both formally and informally. Their visit coincided with school ice cream social at the dean's home, where they had the chance to mingle with MTSO students, faculty and staff.
Recruiter David Allen, who was himself a Next Generations intern before earning a Master of Divinity degree at MTSO, said he enjoyed discussing a wide range of subjects with the visiting students.
"A lot of the conversation was about the church in general. 'Where is the church headed? What is my role in the church in the bigger picture?'" Allen said.
During their time at MTSO, the interns also visited Community Development for All People, a United Methodist organization serving the south side of Columbus, where they helped to sort clothing donated to the United Methodist Free Store. The trip highlighted a unique partnership between MTSO and CD4AP, which joined together to offer a certification in Engaging in Ministry with the Poor, a program approved by the General Board of Higher Education and Ministry of the United Methodist Church.
"It's MTSO's mission to prepare transformational leaders for the church," Casperson said. "That fits pretty nicely with the goal of the Next Generations program. We're pleased to join with West Ohio in helping such promising students engage in the discernment process."
Methodist Theological School in Ohio prepares transformational leaders of many faith traditions for service to the church and the world. MTSO offers master's degrees in divinity, counseling ministries, theological studies and practical theology, as well as a Doctor of Ministry degree. For more information, visit www.mtso.edu.
CONTACT:
Danny Russell, director of communications
drussell@mtso.edu, 740-362-3322