April 14, 2014
Event
'Chasing Ice' Ohio Tour comes to MTSO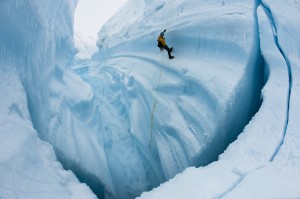 The Ohio Tour of the Academy Award-nominated documentary Chasing Ice comes to MTSO at 7 p.m. April 29. A screening and post-film discussion will be held in the Alford Centrum. The event, sponsored by the Theological Commons at MTSO, is free and open to the public. Refreshments will be served. No registration is required.
Chasing Ice captures visual evidence of climate change through the use of time-lapse photography. The film premiered at Sundance Film Festival, has been broadcast in 172 countries and has won nearly 40 awards from festivals around the world. It also has been screened at the United Nations, before Congress and at the White House.
In partnership with National Geographic and Ohio Interfaith Power and Light, the film's producers recently launched the Chasing Ice Ohio Tour 2014. The MTSO film screening will be followed by an interactive Q&A discussion led by members of the Chasing Ice team, along with a representative from Ohio Interfaith Power and Light.
Methodist Theological School in Ohio prepares leaders of many faith traditions for lives of lasting significance in service to the church and the world. In addition to the Master of Divinity degree, the school offers master's degrees in counseling ministries, theological studies and practical theology, along with a Doctor of Ministry degree. For more information, visit www.mtso.edu.
CONTACT:
Danny Russell, director of communications
drussell@mtso.edu, 740-362-3322