April 3, 2014
Event
MTSO screens 'A Reading of the Letter from Birmingham Jail'
Columbus community leaders read Martin Luther King's famous letter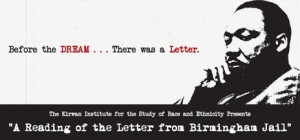 Methodist Theological School in Ohio will host a screening of the film A Reading of the Letter from Birmingham Jail at 7 p.m. April 22 in the Alford Centrum on the MTSO Campus, 3081 Columbus Pike in Delaware. The event, presented by the Theological Commons at MTSO, is free and open to the public.
The hour-long film was produced by the Kirwan Institute for the Study of Race and Ethnicity at Ohio State University and debuted in November 2013. It features more than 40 community leaders – including Columbus Mayor Mike Coleman, OSU President Emeritus Gordon Gee, U.S. District Court Judge Algenon Marbley and both of Ohio's U.S. senators – reading the letter Martin Luther King Jr. wrote while in the Birmingham Jail in April 1963.
King had been arrested for leading a march in Birmingham, Ala., in violation of a court injunction against protests. While in jail, King read "A Call for Unity," a statement made by eight white Alabama clergymen against King and his methods, which inspired him to pen his letter, writing in the margins of newspapers and on other scraps of paper.
The viewing of A Reading of the Letter from Birmingham Jail will be followed by a discussion led by Jamaal Bell, the Kirwan Institute's director of communications, who directed and edited the film.
Methodist Theological School in Ohio prepares leaders of many faith traditions for lives of significance in service to the church and the world. The school offers master's degrees in divinity, counseling ministries, theological studies and practical theology, as well as a Doctor of Ministry degree. For more information, visit www.mtso.edu.
CONTACT:
Danny Russell, director of communications
drussell@mtso.edu, 740-362-3322