When the first-century Philippians received a letter from Paul's prison cell, they didn't have to read far before learning he was "constantly praying with joy in every one of my prayers for all of you." How did he find joy? What did it mean to be locked in ancient prisons? And how might Paul's experience relate to those who are incarcerated today?
Ryan Schellenberg wrestles with these questions in his newly released book, Abject Joy: Paul, Prison, and the Art of Making Do, published by Oxford University Press. For Schellenberg, associate professor of New Testament at Methodist Theological School in Ohio, its publication is the culmination of years spent researching Paul's imprisonment. Before coming to MTSO in 2015, he taught about Paul's prison letters at Fresno Pacific University.
"I had been reading enough about mass incarceration in the United States, and particularly in the California Central Valley, to know that I was in the center of a prison building boom," Schellenberg said. "And I would say a majority of my students either had an extended family member who had served time or, more often, who was employed in a correctional institution. Teaching in a context where real prisons were in fact impinging on the lives of my students is what pushed me toward thinking about Paul's imprisonment in more detail."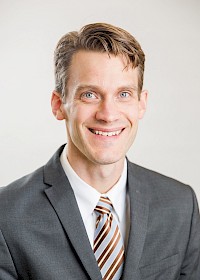 Specifically, he was interested in Paul's state of mind: "What's actually fueling Paul's joy in prison? What does it mean to talk about joy in that context, particularly if prison for Paul is not, or at least not only, the kind of moderately uncomfortable house arrest that gets depicted at the end of the book of Acts, but also the kind of experience most prisoners had in the Roman world?"
"Ancient accounts of prison talk about the heat," Schellenberg said. "They talk about stench. They talk about how adequate quantities of food are not provided to keep people alive."
In the joy Paul expresses to the Philippians, Schellenberg sees a connection with contemporary prisoners: "He knows there's someone out there that cares about him and that depends on him. I look at that in comparison with imprisoned parents today who make it through their day because they know that they have children on the outside who they are responsible to. And so letters to those children, visits from those children and a knowledge that they matter to someone and that they are needed by someone is part of what keeps them going in the incredibly difficult circumstances of prison."
Schellenberg's book will be the subject of an online conversation, "Reading Paul in Prison: A Book Launch and Colloquium," at 7 p.m. Eastern time Sept. 28. He will be joined by three scholars and theologians with extensive experience working alongside incarcerated persons. The group will discuss what prison tells us about Philippians and also what Philippians has to say about prison. While the colloquium will be presented at no charge, advance Zoom registration is required.
Schellenberg earned his Ph.D. from the University of St. Michael's College in the University of Toronto, his Master of Arts in New Testament at Mennonite Brethren Biblical Seminary, and his BA at Canadian Mennonite University. His previous book, Rethinking Paul's Rhetorical Education, was awarded the 2015 F.W. Beare Award for an outstanding book in New Testament and Christian Origins by the Canadian Society of Biblical Studies.
Methodist Theological School in Ohio provides theological education and leadership in pursuit of a just, sustainable and generative world. In addition to the Master of Divinity degree, the school offers master's degrees in counseling, practical theology, social justice and theological studies, along with a Doctor of Ministry degree.
CONTACT:
Danny Russell, communications director
drussell@mtso.edu, 740-362-3322