January 9, 2013
Event
Schooler Institute on Preaching features Palmer and Suchocki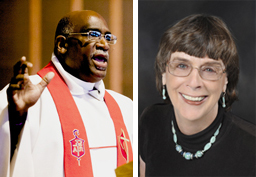 United Methodist Bishop Gregory V. Palmer and scholar Marjorie Hewitt Suchocki will lead the Schooler Institute on Preaching Feb. 10-12 at Methodist Theological School in Ohio, 3081 Columbus Pike, Delaware, Ohio. Under the theme "The Other Presence in Your Pulpit," the leaders will preach, lecture and hold dialogues on the practice of preaching in the omnipresence of God.
Thanks to the generosity of Schooler Family Foundation, the event is offered to the public without cost. Advance registration is required. A complete schedule and online application form are available at www.mtso.edu/schooler. MTSO is offering one CEU credit for a $25 administrative processing fee.
Palmer began his assignment with the West Ohio Conference Sept. 1, following four years leading the Illinois Area of the United Methodist Church. In addition to churches in North Carolina, Palmer served East Glenville UMC and Werner UMC in Cleveland; James S. Thomas UMC in Canton; and the United Methodist Church of Berea during his pastoral career.
Suchocki is professor emerita at Claremont School of Theology, where for many years she taught theology and also served as dean. She participates in local, national and international ministries of the United Methodist Church. The author of many books and articles, Suchocki serves as co-director of the Center for Process Studies at Claremont.
"We're fortunate to have Dr. Suchocki and Bishop Palmer leading the Schooler Institute," said MTSO President Jay Rundell. "They're excited about working together, and we're looking forward to their perspectives on the preparation and delivery of powerful sermons."
Methodist Theological School in Ohio prepares transformational leaders of many faith traditions for service to the church and the world. MTSO offers master's degrees in divinity, counseling ministries, theological studies and practical theology, as well as a Doctor of Ministry degree. For more information, visit www.mtso.edu.
CONTACT:
Danny Russell, director of communications
drussell@mtso.edu, 740-362-3322