January 28, 2015
News
Seminary Hill Farm offers food shares for purchase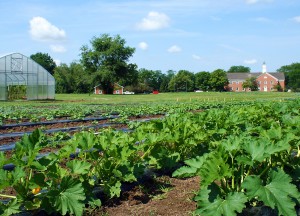 There is an important update below this article.
Central Ohio fresh-food lovers have a range of opportunities to invest in community-supported agriculture through Seminary Hill Farm in 2015. Each Thursday this spring, summer and fall, CSA members will pick up a week's worth of freshly washed fruits and vegetables at the farm, located on the campus of Methodist Theological School in Ohio, 3081 Columbus Pike in Delaware.
Easy and secure CSA registration is available here.
CSA memberships are offered for three distinct terms. Shares during the eight-week Spring and Fall terms will include such things as salad mix, radishes, asparagus, spinach and herbs. The 12-week Summer Term's shares will be larger and include premium items such as tomatoes and peppers.
Spring Term, at a price of $240, runs April 30 through June 18. Summer Term, $480, runs July 2 through Sept. 17. Fall Term, $240, runs Sept. 24 through Nov. 12. A special All-Season Membership is available at a reduced price of $900. Memberships are transferable and may be shared by multiple individuals or households.
Produce will be distributed 4-6 p.m. each Thursday at the Seminary Hill Farm barn. An array of selections will be washed, sorted and waiting for pickup by CSA members. Each week's share will provide a week's worth of produce for four people.
Seminary Hill Farm's experts in farm-to-table cuisine will be on hand to discuss the selections and preparation ideas.
Update: Due to an unusually rainy spring, CSA dates have been amended as follows:
Spring Term: 8 weeks for $240
May 14 through July 2
Summer Term:12 weeks for $480
July 9 through Sept. 24
Fall Term: 8 weeks for $240
Oct. 1 through Nov. 19
Seminary Hill Farm is a place of theology, ecology and good food for all. The USDA-certified organic farm spreads over more than 6 acres of the MTSO campus. For more information, visit www.seminaryhillfarm.org.
Methodist Theological School in Ohio prepares leaders of many faith traditions for lives of lasting significance in service to the church and the world. In addition to the Master of Divinity degree, the school offers master's degrees in counseling ministries, theological studies and practical theology, along with a Doctor of Ministry degree.
CONTACT:
Danny Russell, director of communications
drussell@mtso.edu
740-362-3322