Fowler has led three summer college caravans for high school students, visiting schools throughout the eastern U.S. 
This was Jennifer Fowler in the early 2000s: productive but angry, and very much estranged from God. "For five and a half years," she said, "I didn't go into a church."
On paper, those years went swimmingly. From 2001 to 2006, Fowler attended the University of Missouri–St. Louis, earning a bachelor's degree in criminology and criminal justice, with minors in political science and psychology, as well as a certificate in trauma studies. But she was enduring a bitter crisis of faith, triggered by the death of her father, Rev. Allie W. Fowler Jr., just before she started college. For 26 years, he had served as pastor of Goodwill Missionary Baptist Church in Lott, Texas.
This is Jennifer Fowler today: halfway to a Master of Divinity degree at MTSO, serving as associate minister at New Salem Missionary Baptist Church and making a dramatic impact as the teen director at a YMCA branch serving an economically disadvantaged area on the west side of Columbus. She grins as she describes herself as "a kid at heart," and her director at the Y talks about "her passion and her energy."
Looking back now, she sees how the life she's made for herself in Columbus is a product of her darkest days. "It was in that time that, through being angry at God, I got to experience God," she said. "Somewhere along the way, I made peace with the fact my father was gone, because his job was done and mine was starting."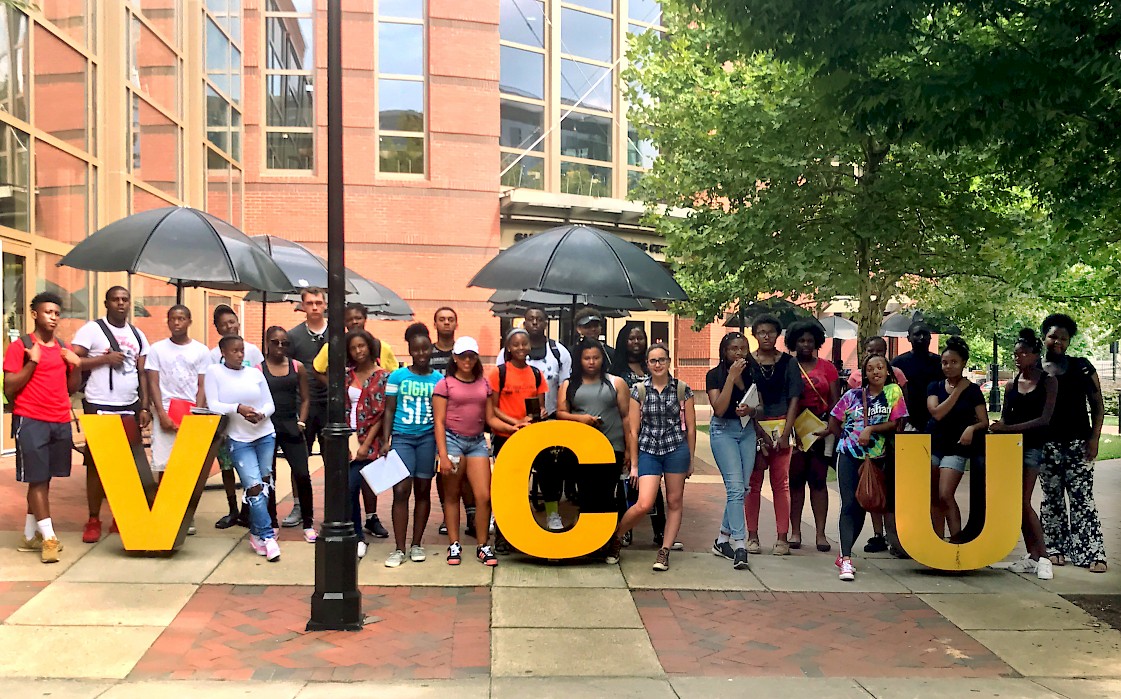 Fowler's first job after graduating from UM–St. Louis in 2006 was with City Year, part of the national service program AmeriCorps. It set her on a course helping children and teenagers succeed. After telling City Year she would serve wherever they needed her, she landed in Columbus' Linden neighborhood, where she began by teaching kindergarteners to read and helping high school seniors ensure that they would be eligible to graduate.
Over the next seven years, as she filled a series of roles with City Year, Fowler also found a church home at New Salem. She leads a dinner program that provides hot meals for college students the third Sunday of the month, teaches Sunday school, serves as a shepherd leader for a young-adult care group, sings alto in the choir, "and then anything else that someone asks me to do."
In February 2014, the YMCA hired Fowler as an after-school site coordinator, working within a Columbus middle school. Six months later, she was promoted to teen director, coordinating a wide range of services at the Hilltop Y and two city schools.
A conversation with one of her students a few years ago helped spawn an audacious idea: "One day I was talking to one of my teens who was going into her senior year. I said, 'What's the plan after you graduate?' And she told me she didn't know. I said, 'What do you mean you don't know?' And she said, 'I think I want to go to college, but I don't want to go to Ohio State. But I don't know where else I can go.' I asked her how many colleges she had been to, and she just looked at me blankly."
Fowler and her YMCA supervisor, District Executive Director Al Obayuwana, set about filling in the blank. Soon Fowler, a colleague and 11 ninth- through 12th-graders were piling into the Y's mini bus for a three-day tour of eight southern Ohio colleges, from Ohio University and Wright State to historically black Central State and Wilberforce universities. Each student paid $100 for the trip, with Fowler requesting deeply reduced hotel rates and asking the hosting schools, "Can we eat there for free?"
"And people said yes," she said. "I did come across some no's, and we just didn't go to those schools. I know my kids, and my kids are going to need people who are going to say yes to things that don't make sense."
In 2016, Fowler more than doubled the college caravan, taking 23 kids to colleges and universities throughout northern Ohio.  And this past July, 29 students spent a week touring 11 schools throughout the southeastern U.S., from Howard University in Washington, D.C., to the University of Alabama. This summer's trip cost $400 – with scholarships and payment plans offered – and included a tour of Washington, D.C. "I had some kids who left Columbus for the first time with me," Fowler said.
This fall, as she has in the past, Fowler will be cajoling and pestering high school seniors to follow through with their college applications: "My birthday is Dec. 1, so before the kids are allowed to tell me happy birthday, they have to tell me where they've submitted applications. And everybody has to acknowledge my birthday, so you have to submit applications. Skipping my birthday is not an option."
Fowler gained some personal experience with the higher-ed application process in 2015, when she applied to pursue her M.Div. degree at MTSO – "the very thing I ran away from when life got hard and my father passed away."
"I researched different schools. I knew I was going to have to work full-time. I needed a program that would work around my work schedule." She realized MTSO's Connections path, which allows M.Div. students to attend all of their on-campus classes on Tuesdays, fit the bill.
Fowler is making the most of the resources available at MTSO. Last summer, she attended the Jarena Lee Preaching Academy, sponsored by WomanPreach! Inc., thanks to a grant through MTSO's Student Enrichment Program. That led to a field-education placement with WomanPreach!, which is led by MTSO Interim Dean Valerie Bridgeman. Fowler's final field-ed project is coordinating the WomanPreach! Chloe's Circle event, to be held Sept. 29 and 30 at MTSO.
Attending MTSO, she said, "is an amazing experience that has changed my perspective and thought processes around theology and life. After two years, I'm realizing that my theology is still developing, and I am OK with that. I think that MTSO is a place that allows you to dissect what you believe and wrestle with it."
Fowler plans to graduate in 2019. Between now and then, she'll work to develop her prophetic preaching voice and keep giving teenagers a sense of the possible. Her pursuits in school, in church and at the Y help her begin to envision the ministry still in front of her.
"It is confirmation that I'm operating in my calling, even though I don't know what the final result is going to be."
Methodist Theological School in Ohio provides theological education and leadership in pursuit of a just and sustainable world. In addition to the Master of Divinity degree, the school offers master's degrees in counseling, theological studies and practical theology, along with a Doctor of Ministry degree.
Engage with MTSO through Facebook and Twitter (@MTSOedu).
CONTACT: 
Danny Russell, communications director
drussell@mtso.edu, 740-362-3322