July 5, 2012
News
M.Div. student's columns published in State of Formation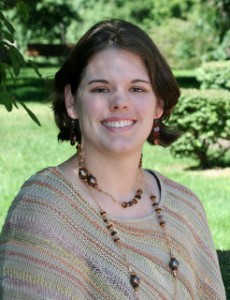 Not every seminary student would jump at this offer: How would you like to do even more writing? But for Christina Yost, who hadn't yet finished her first semester as an M.Div. student, the opportunity was too tempting to pass up.
Yost was invited to become a contributing scholar to State of Formation, a website that describes itself as "a forum for up-and-coming religious and philosophical thinkers to draw upon the learning that is occurring in their academic and community work." Stateofformation.org was launched in 2010 by the Journal of Inter-Religious Dialogue, which runs it in partnership with Hebrew College and Andover Newton Theological School and in collaboration with the Council for a Parliament of the World's Religions.
Professor John Kampen nominated Yost as a contributing scholar, and her first commentary was published in late 2011. She has written seven so far, with headlines ranging from "The War on Whose Religion?" to "So, a Christian Seminary Student Walks into a Mosque…." All are listed on Yost's own State of Formation author page.
"I was excited. I was a little surprised," Yost said of being tapped to join fellow up-and-coming writers from a wide variety of religious traditions. She embraced the chance to write for a broad audience.
"I've always enjoyed school, and I think writing's been a part of it," she said. "It gives you a chance to sit down with ideas that have been bouncing around in your head and wrestle with them, play with them and see where they lead you." The fact Yost plans to specialize in interreligious contexts at MTSO made this side project a perfect fit.
Kampen said Yost has distinguished herself not only in his classroom but in the initiative she took while still an undergraduate at Ohio Wesleyan University.
"I was particularly intrigued by the experience of Christina with the Interfaith Youth Core, the organization that began in Chicago under the leadership of Eboo Patel," Kampen said. "This is viewed as the organization that gave voice and direction to the new interest in interreligious connections among contemporary youth."
Through the Interfaith Youth Core, Yost led a group of OWU students in a visit to a Chicago mosque. "It is very refreshing to see a young seminarian committed to both a profession of ministry within the church and a vigorous engagement with innovative interreligious initiatives," Kampen said.
Yost is a certified candidate for ordination in the Greater New Jersey Conference of the United Methodist Church and serves as a student associate at William Street UMC in Delaware. She left her comfort zone again this spring, when, for an assignment in Professor Lisa Withrow's class, she attended Friday prayer at the Noor Islamic Cultural Center in Dublin. This time, she wasn't in the company of school friends.
"It was nervous, that walk between the car and the door," she recalled. But her nerves were quickly settled, as she wrote in a State of Formation column:
"As I entered the building, however, my state of being was completely different from the nerves and overwhelming sense of being the 'other' that I had been feeling in the parking lot. The hospitality they shared with me was excellent: warm greetings, helpful guidance, and an eagerness to make me feel welcome, all the things you would imagine great hospitality to be. It put me at ease, and once that happened, I was back in my element."
Yost was pleasantly surprised by the number of people who engaged with that column through online comments and Facebook reposts: "I thought, 'Wow, this is really getting read in a lot of places.' It was a surreal moment."
As she writes for State of Formation – a site she considers "a hidden treasure" – she recalls words of wisdom from Professor Paul Numrich, who teaches interreligious relations: "When you're in an interfaith dialogue, you should speak for your own self and not for the whole community."
"I just hope," she said, "that I'm bringing a different Christian voice."
Methodist Theological School in Ohio prepares leaders of many faith traditions for lives of significance in service to the church and the world. The school offers master's degrees in divinity, counseling ministries, theological studies and practical theology, as well as a Doctor of Ministry degree. For more information, visit www.mtso.edu.
CONTACT:
Danny Russell, director of communications
drussell@mtso.edu, 740-362-3322